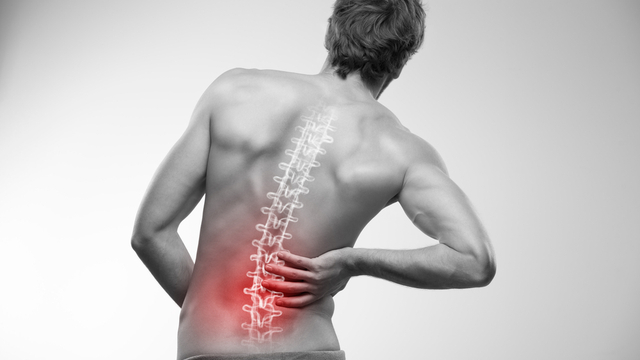 In your lower back, a pinched nerve, also known as a compressed nerve, can cause intense pain and discomfort.
You may experience the following symptoms in your lower back, hips, buttocks, legs, ankles, and feet:
stabbing and shooting pain

numbness 

muscle weakness 

muscle spasms

loss of reflex
General practitioners and pain specialists typically recommend these four simple, non-invasive treatments before anything else:
1. Medicine
non-steroidal anti-inflammatory drugs (NSAIDs)

Naproxen sodium (Aleve)

muscle relaxers
2. Physical Therapy
Physical therapy with a certified therapist can help heal and lessen the pain of a pinched nerve by improving your coordination, balance, and strength.
3. DIY Treatments 
Heat and cold therapy: ice packs, hot and cold compresses
Sleep adjustment: sleeping with a pillow under your back or between your legs to help ease pressure on nerves
Ergonomic adjustments: Keeping your legs elevated and placing pillows under your legs during the day to take the pressure off your spine
4. Lifestyle Changes
increased activity through

exercise (aerobics, yoga, pilates, tai chi, weight training, etc.)

dieting
Exercising and dieting to lessen inflammation and lose weight can help heal and alleviate the pain from pinched nerves and lower the risk of suffering another pinched nerve.
YOU MAY ALSO BE COMFORTABLE TRYING NON-TRADITIONAL TREATMENTS AND MANAGEMENT:
5. Non-Traditional Therapies
Massage: Massage therapy can relieve pain from a pinched nerve caused by tight muscles, tendons, and ligaments (not by pressure from a herniated disc or other spine problem). 
Acupuncture: Acupuncture practitioners and some patients report that that practice decreases inflammation in the body, decreasing pain.
Chiropractic: Chiropractic realignment may relieve pressure on the spinal nerves, which can, in turn, reduce the pain and heal a pinched nerve.
BUT SOMETIMES, THE PAIN IS SEVERE AND LONG-LASTING, AND PAIN SPECIALISTS WILL RECOMMEND MORE AGGRESSIVE TREATMENTS: 
6. Out-Patient Drug Treatment and Prescription Drugs
Oral corticosteroids such as prednisone, methylprednisone, and dexamethasone can reduce pain by suppressing the body's inflammatory response. 
Corticosteroid nerve block injections in the lower back can stop or reduce the pain for weeks or months (find out more about this and other pain treatments here).
The drawback is that these steroid medications reduce the body's ability to fight infection.
Doctors may prescribe these oral drugs instead:
prescription opioids (one to two weeks to avoid dependence)
muscle relaxers
anticonvulsants
tricyclic antidepressants
AS A LAST RESORT WHEN OTHER TREATMENTS HAVE FAILED, SPECIALISTS WILL RECOMMEND A SURGICAL PROCEDURE: 
7. Surgery 
Herniated discs are a common cause of pinched nerves. In some cases, a discectomy is the best option.
The procedure involves a surgeon removing all or part of the disk pressing on the nerve root.
But this surgery may also involve removing or fusing vertebrae, which raises the risk significantly.
Treatment at Texas Pain Physicians 
If you're experiencing pain and discomfort in your lower back and legs, we can help. 
At TPP, we have specialists across many medical disciplines who will find the treatment plan that suits you. 
Please call us at (972) 636-5727 to find out more or make an appointment. You can also book an appointment online.
https://www.texaspainphysicians.com/wp-content/uploads/2022/03/shutterstock_597423008.jpg
360
640
https://www.texaspainphysicians.com/wp-content/uploads/2017/01/logo-300x78.png
2022-03-10 15:21:28
2022-03-10 15:21:28
7 Treatment Options for A Pinched Nerve in Your Lower Back