A herniated disc is a condition that affects more than 3 million people in the US each year.
It is a condition concerning a problem with a rubbery disk between the spinal bones.
This disc is soft and cushiony, with a jelly-like interior and a tougher exterior.  A herniated disc happens when the jelly-like interior of the disk seep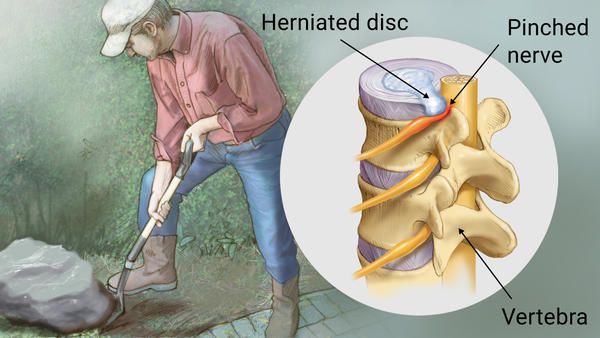 s pushes out through a tear in the outer exterior.  A herniated disk is sometimes called a slipped disk or ruptured disk.
Symptoms a Herniated Disc
Although herniated discs can occur in your neck, most happen in your lower back.  If you think you are experiencing a herniated disk, look for these common signs:
Numbness or tingling

Arm or leg pain

Weakness
If you are having neck or back pains that travel down your arm or leg, seek medical attention.
Causes
Most often, disk herniation is caused by aging-related wear and tear called disk degeneration.  As you age, the spinal disks become less flexible and more prone to rupturing and tearing as a result of minor twists and turns.
It can be often hard to pinpoint the exact cause of a herniated disc, but typically it occurs during the lifting of heavy objects with poor posture or twisting and turning.  Traumatic events like falls or blows to the back are rarely the cause of herniated disks.
Treatments
The treatment options for a herniated disc usually depend on the severity and symptoms experienced by the patient.  A few of the more common treatments that you may see are Medications, therapy, surgery, or alternative medicine.
Schedule An Appointment Today
If you or someone you know is suffering from back pain, call Texas Pain Physicians and schedule an appointment today.
What Our Patients are Saying
Dr. Muhammad was professional, knowledgeable and seemed to genuinely care about finding a solution to my pain problem.
Dr. Rasheed has been a wonderful doctor so far. He's very professional and confident. He has had a ton if ideas for us to try, which is completely different from my last pain mgt. doc. So far, he's been everything I could have asked in a pain mgt. doctor.
I love Dr. Abdelfattah! He is an amazing doctor. He has an excellent beside manner, and her Is very interested and concerned about his patients, and their diagnosis, and he is able to empathize with his patients. He is very skilled at preforming minimally invasive procedures that can really reduce pain. He is NOT a pill mill, but he is NOT scared to prescribe what the patient may need to be comfortable and to reduce pain. As far as I can tell the Pain Management Clinic is in full compliance with the State medical board's guidelines on Pain Management Clinics. I would send anyone who is seeking relief from their pain to him because he is going to do his very best to find out what is causing the pain, and the best way to treat it. Truly an AWESOME doctor!!! I nominate him as a TOP DOCTOR!!! Being a healthcare professional I know a good physician when I see one and this one is it!!!!
Staff was amazing, tell you what they think and give you options and really wants to know the underlined cause before they do anything. I think that's awesome and will recommend to anyone!!!
Everyone was so nice. Dr. Zhao explained things to me in a way I could understand everything. She had a smile on her face the whole time. It was like she was happy to see me. I really liked how the appointment turned out.
Dr. Syed listens to me & gives me hope for conquering this constant pain of neuropathy. He is open to new methods of treating my constant pain.
Super place, super doctors. Took the time to explain everything to me.