Arthritis is a common condition that is used to describe joint pain or joint disease.  It is a condition that over 50 million adults and 300,000 children experience and is most common among women.  There are over 100 different types of arthritis and the most common symptoms include swelling, stiffness, pain, and decreased range of motion.  Symptoms can range from mild to moderate, to severe and tend to increase and occur more frequently as people get older. There are some great natural ways to help cure arthritis, such as turmeric supplements, but if you cannot find relieve, you will want to see a specialist.
If not treated, arthritis can cause permanent joint damage.  Severe arthritis can result in the inability to complete daily activities as well as result in chronic, daily pain.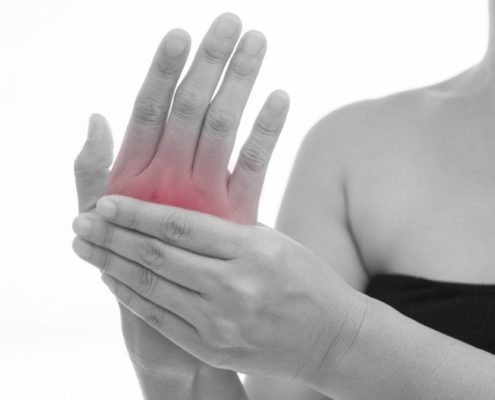 There are many different types of arthritis, some of which are: Degenerative Arthritis, Inflammatory Arthritis, Infectious Arthritis, and Metabolic Arthritis.
Degenerative Arthritis
The most common type of arthritis is Osteoarthritis.  Osteoarthritis happens when the cartilage (the cushioned, slick surface on the end of bones) wears away and causes the bone to rub against bone, resulting in pain, swelling, and stiffness.
If joint symptoms are severe, it can cause a decreased quality of life and joint replacement may be necessary. Osteoarthritis can be prevented by maintaining a healthy weight, staying active, and avoiding injury.
Inflammatory Arthritis
A healthy immune system generates internal inflammation to protect the body from infection and to prevent diseases. Sometimes, the immune system can mistakenly attack the joints with inflammation, causing joint erosion and could potentially damage internal organs, eyes and other parts of the body.
Examples of inflammatory arthritis are rheumatoid arthritis and psoriatic arthritis. With these types of arthritis, early diagnosis and aggressive treatment are very important.
Infectious Arthritis
This happens when a virus, fungus, or bacterium enters into the joint and causes inflammation.  These types of cases can often be treated with antibiotics, but sometimes this type of arthritis can become severe and require further treatment.  A few types of organisms that can cause infectious arthritis are Shigella, Salmonella, Chlamydia, Gonorrhea, and Hepatitis C.
Metabolic Arthritis
This type of arthritis happens as the body breaks down purines, which is found in human cells.  As purines are broken down, uric acid is formed in the body  Some people naturally produce more uric acid than others and as a result, can't get rid of the uric acid quickly enough.  When this happens, the uric acid builds up and can form crystalline needles in the joint, which results in spikes of extreme joint pain, or gout attacks. If uric acid levels are not reduced, gout can become chronic and cause disabilities.
Diagnosing and Treatments
Often times the diagnosis of arthritis begins with a physical exam and sometimes a blood test or image scan.  Arthritis specialists will typically manage ongoing treatments thereafter.
If you have questions about arthritis and would like to know how we can help you at Texas Pain Physicians, call us today to schedule an appointment.
What Our Patients are Saying
Dr. Muhammad was professional, knowledgeable and seemed to genuinely care about finding a solution to my pain problem.
Dr. Rasheed has been a wonderful doctor so far. He's very professional and confident. He has had a ton if ideas for us to try, which is completely different from my last pain mgt. doc. So far, he's been everything I could have asked in a pain mgt. doctor.
I love Dr. Abdelfattah! He is an amazing doctor. He has an excellent beside manner, and her Is very interested and concerned about his patients, and their diagnosis, and he is able to empathize with his patients. He is very skilled at preforming minimally invasive procedures that can really reduce pain. He is NOT a pill mill, but he is NOT scared to prescribe what the patient may need to be comfortable and to reduce pain. As far as I can tell the Pain Management Clinic is in full compliance with the State medical board's guidelines on Pain Management Clinics. I would send anyone who is seeking relief from their pain to him because he is going to do his very best to find out what is causing the pain, and the best way to treat it. Truly an AWESOME doctor!!! I nominate him as a TOP DOCTOR!!! Being a healthcare professional I know a good physician when I see one and this one is it!!!!
Staff was amazing, tell you what they think and give you options and really wants to know the underlined cause before they do anything. I think that's awesome and will recommend to anyone!!!
Everyone was so nice. Dr. Zhao explained things to me in a way I could understand everything. She had a smile on her face the whole time. It was like she was happy to see me. I really liked how the appointment turned out.
Dr. Syed listens to me & gives me hope for conquering this constant pain of neuropathy. He is open to new methods of treating my constant pain.
Super place, super doctors. Took the time to explain everything to me.