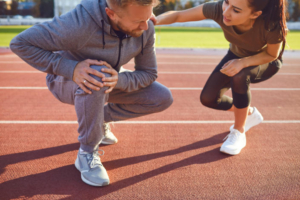 Sports injuries are injuries that occur when engaging in sports or exercise.  They can occur due to overtraining, lack of conditioning, and improper form or technique.   
You are at risk if you haven't been regularly active, play contact sports, and/or don't warm up properly before exercise.  Different sports injuries produce different symptoms and complications.
Most common types of sports injuries
Sprains.

 

Overstretching or tearing the ligaments results in a sprain.

 

Ligaments are pieces of tissue that connect two bones to one another in a joint.
Strains.

 

Overstretching or tearing muscles or tendons results in a sprain.

 

Tendons are thick, fibrous cords of tissue that connect bone to muscle.
Swollen muscles.

 

Swelling is a natural reaction to an injury and may also be painful and weak.
Fractures, known as broken bones
Dislocations.

 

This happens when a bone is forced out of its socket.
Achilles tendon rupture.

 

This is a powerful, thin tendon at the back of your ankle.

 

When this tendon breaks or ruptures, you may experience sudden and severe pain and difficulty walking.
Rotator cuff injury.

 

The rotator cuff is four pieces of muscle that keep your shoulder moving in all directions.

 

Any tear in any of these muscles can weaken the rotator cuff.
Treatment for sport injuries: (RICE)
Rest
Ice
Compression
Elevation
Following the RICE method is helpful for MILD sports injuries when used within the first 24 to 36 hours after injuries.  This will help reduce swelling, pain and bruising.  Over-the-counter and prescription medications are also available to provide pain relief and swelling.
Emergency Care and Treatment is required when
Pain or swelling is severe
Instability
Visible lumps, bumps, or other deformities
Popping or crunching sounds when using joints
Weakness or inability to put weight on joints
Dizziness
Fever
Trouble breathing
Surgery or physical therapy may be required for serious sport injuries, and sometimes it may be necessary to visit an orthopedic surgeon in the Dallas or surrounding area.
The best way to prevent a sport injury is to warm up properly and stretch.  Wear proper shoes and athletic protection and learn the right moves to make during your sport or activity.  If you get a sport injury, make sure you are fully healed before resuming your activities again.  It is also important to "cool down" after your activity which usually involves doing the same stretching and exercises involved in a warm-up.
Finally resume activity slowly and ease back in to exercise or your sport of choice.
What Our Patients are Saying
Dr. Muhammad was professional, knowledgeable and seemed to genuinely care about finding a solution to my pain problem.
Dr. Rasheed has been a wonderful doctor so far. He's very professional and confident. He has had a ton if ideas for us to try, which is completely different from my last pain mgt. doc. So far, he's been everything I could have asked in a pain mgt. doctor.
I love Dr. Abdelfattah! He is an amazing doctor. He has an excellent beside manner, and her Is very interested and concerned about his patients, and their diagnosis, and he is able to empathize with his patients. He is very skilled at preforming minimally invasive procedures that can really reduce pain. He is NOT a pill mill, but he is NOT scared to prescribe what the patient may need to be comfortable and to reduce pain. As far as I can tell the Pain Management Clinic is in full compliance with the State medical board's guidelines on Pain Management Clinics. I would send anyone who is seeking relief from their pain to him because he is going to do his very best to find out what is causing the pain, and the best way to treat it. Truly an AWESOME doctor!!! I nominate him as a TOP DOCTOR!!! Being a healthcare professional I know a good physician when I see one and this one is it!!!!
Staff was amazing, tell you what they think and give you options and really wants to know the underlined cause before they do anything. I think that's awesome and will recommend to anyone!!!
Everyone was so nice. Dr. Zhao explained things to me in a way I could understand everything. She had a smile on her face the whole time. It was like she was happy to see me. I really liked how the appointment turned out.
Dr. Syed listens to me & gives me hope for conquering this constant pain of neuropathy. He is open to new methods of treating my constant pain.
Super place, super doctors. Took the time to explain everything to me.