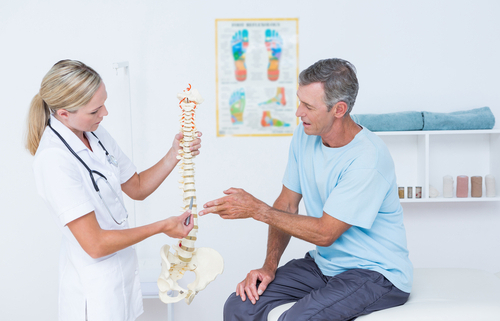 Pain from a herniated disc can be mild and easy to handle, moderate and distracting, or severe enough to send you straight to a doctor.
It can hit suddenly and resolve in a few days. It can be constant or chronic and last for months or longer. 
Doctors specialized in pain management recommend treating herniated disc pain with conservative, non-surgical treatments. They may recommend surgery only after all other treatments have failed. 
The Three Types of Herniated Discs 
1. Contained Herniation (bulging disc)
With this type of herniation, there is generally no pain or mild pain. 
Bulging discs occur when pressure between the vertebrae pinches the disc, forcing it to bulge. When there is pain, it comes from the bulging disc putting pressure on nearby spinal nerves.
2. Non-Contained Herniation (severe bulging disc)
This severe disc herniation generally causes severe back pain.
It can also be associated with numbness, weakness, and tingling in the extremities from the extreme pressure on spinal nerves. 
3. Sequestered herniation (disc rupture)
This type of herniation can cause intense pain and decreased mobility. It is also associated with numbness, weakness, and tingling in the extremities.
Disc ruptures can occur when non-contained herniations or severe bulging discs go untreated. As pressure between the vertebrae builds up, it eventually overloads the discs, forcing them to rupture. 
Where They Occur in the Body
Most herniated discs are in the neck and lower back.
Lumbar pain (lower back)
Sciatica or leg pain is the most common symptom associated with herniated discs in the lower back.
Patients describe sharp, burning, or radiating pain down the lower back, through the buttock, and down the leg (pain travels through the sciatic nerve). 
Herniated lumbar discs can also cause numbness and muscle weakness in the foot and ankle. 
Cervical herniated disc (neck) 
Depending on the location of the herniated disc, pain can present in the neck, shoulder, arm, and hand. The pain from cervical herniated discs can last for days, weeks, months or longer, and be constant or chronic. 
When a herniated disc puts too much pressure on cervical nerves, patients can experience tingling, numbness, and weakness in the deltoid muscle (shoulder muscle), biceps, wrist muscles, hands, and triceps.
Thoracic Spine (upper back)
Disc herniations in the upper back are less common and rarely cause pain. When there is pain, it presents in the upper back and chest. 
Pain Treatments for Them
Pain management specialists typically begin herniated disc treatment with rest and NSAIDs (non-steroidal anti-inflammatory drugs).
Medications 
Depending on the severity of the pain, medication may make it easier for patients to tolerate physical therapy. 
OTC NSAIDs like aspirin and ibuprofen (recommended for mild to moderate pain)
oral narcotic agents

(prescribed for severe pain)

oral steroids

(prescribed to treat severe pain and reduce inflammation)
Home and Non-M.D. Treatments
These are treatments that don't require a pain management doctor's expertise.
When applied for 4-6 weeks, these treatments can help reduce pain and discomfort. Applying more than one treatment at once may achieve better results. 
Heat and cold therapy

Moderate physical activity

Chiropractic

Moderate exercise

Changing sleep positions 

physical therapy

Myofascial release and/or massage
Therapeutic Injections
Pain management specialists may recommend therapeutic injections if conventional therapies and medications don't work or provide relief soon enough. 
Therapeutic injections can relieve pain for days, weeks, and even months, which buys time for conservative, non-surgical treatments to work.
Two commonly used therapeutic injections: 
epidural injections: Used to

reduce inflammation and provide extended pain relief.

nerve blocks: Used to

diagnose the source of the neck pain and to provide extended pain relief.
Herniated Disc Treatment in Texas
If you have been diagnosed with a herniated disc or think you may have one, Texas Pain Physicians can help. We have offices in Houston, Dallas, and a dozen other locations across Texas.
Give us a call or book an appointment online and start your pain-free journey today!
https://www.texaspainphysicians.com/wp-content/uploads/2021/08/shutterstock_289401206-e1629398033708.jpg
268
400
https://www.texaspainphysicians.com/wp-content/uploads/2017/01/logo-300x78.png
2021-08-12 19:44:20
2021-09-15 20:15:19
How Pain Specialists Manage and Treat Herniated Disc Pain