Osteoarthritis is degeneration of joint cartilage and the underlying bone, most commonly from middle age people and older. It is often referred to as 'wear and tear' arthritis that happens over the years of use.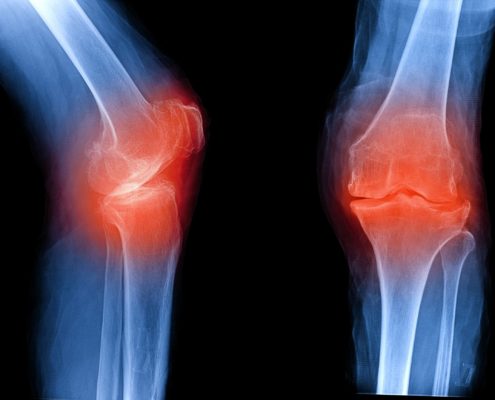 Symptoms of OA: There usually not a speedy onset of osteoarthritis, it's something that happens slowly and over a longer amount of time. For a lot of people, the first signs are achy joints after physical activity. However, after the disease has progressed, other symptoms may show up such as:
Pain in a joint (or many) during movement
The crunching sound or feeling of bone rubbing together (called crepitus) when the joint is being used
Stiffness after periods of inactivity, usually after sleeping or sitting
There is tenderness if pressure is applied to the joint
OA symptoms most commonly occur in the finger and hands, spine, knees, and hips. If OA is present in any of these parts, it will be difficult to move the joints, bend, and the area may feel stiff or look swollen.
Causes of OA: Injuries can cause OA, but it's usually rarer. Most often, OA is caused by wear and tear over a long amount of time by repetitive movement or posture. By this happening, joint cartilage eventually becomes eroded. Cartilage is a shock absorber, which makes it very important. It allows the joint to move smoothly and as it begins to break down it may lose its shape, which causes the bones to rub together. This causes swelling, pain, and loss of motion to the joint.
There are other risk factors that can cause the onset of OA such as:
Age: the strongest risk factor
Gender: OA affects both women and men. It occurs more often in men under the age of 45 than women. After the age of 45, OA is more common in women.
Obesity: the amount of weight the joints have to hold up can increase chances of OA. The knee is usually affected the most because it is one of the most important weight-bearing joints.
Injury: if there is a traumatic injury to the joint, OA is more likely to develop.
Diagnosis and treatment of OA: There are multiple tools and tests your doctor may use to accurately diagnose osteoarthritis. Usually, questions about your symptoms will be asked about first, and then he/she will perform a physical examination. Your doctor will want to know if you have any prior injuries to the joint/joints that are causing you the most trouble. Other tests may be used to diagnose OA and examine the severity and extent of the joint damage including:
X-rays: This will help your doctor determine if you have a different form of arthritis or if you have osteoarthritis. X-rays in series over time can show the progression of the joint damage.
Joint aspiration: A bit more invasive but often necessary; a needle is inserted into the joint which will pull fluid from the area to be examined.
There are a few treatments that will help alleviate discomfort associated with OA such as:
Analgesics: These are medications that relieve pain. They are over-the-counter drugs like acetaminophen but can also be prescription medications.
NSAIDs: These are a specific pain medication (nonsteroidal anti-inflammatory drugs) that is usually over-the-counter or can be prescribed as a patch and applied to the area.
Injections like corticosteroids (hormones) that reduce inflammation, pain, or swelling quickly.
Hyaluronic acid: This is an injection used to replace the lubricant that is naturally lost in people who suffer from OA. This helps with most discomfort and movement problems.
Surgery may be an alternate option if the corrosion is severe, an injury has caused the onset, and/or medication or injections provide no relief.
What Our Patients are Saying
Dr. Muhammad was professional, knowledgeable and seemed to genuinely care about finding a solution to my pain problem.
Dr. Rasheed has been a wonderful doctor so far. He's very professional and confident. He has had a ton if ideas for us to try, which is completely different from my last pain mgt. doc. So far, he's been everything I could have asked in a pain mgt. doctor.
I love Dr. Abdelfattah! He is an amazing doctor. He has an excellent beside manner, and her Is very interested and concerned about his patients, and their diagnosis, and he is able to empathize with his patients. He is very skilled at preforming minimally invasive procedures that can really reduce pain. He is NOT a pill mill, but he is NOT scared to prescribe what the patient may need to be comfortable and to reduce pain. As far as I can tell the Pain Management Clinic is in full compliance with the State medical board's guidelines on Pain Management Clinics. I would send anyone who is seeking relief from their pain to him because he is going to do his very best to find out what is causing the pain, and the best way to treat it. Truly an AWESOME doctor!!! I nominate him as a TOP DOCTOR!!! Being a healthcare professional I know a good physician when I see one and this one is it!!!!
Staff was amazing, tell you what they think and give you options and really wants to know the underlined cause before they do anything. I think that's awesome and will recommend to anyone!!!
Everyone was so nice. Dr. Zhao explained things to me in a way I could understand everything. She had a smile on her face the whole time. It was like she was happy to see me. I really liked how the appointment turned out.
Dr. Syed listens to me & gives me hope for conquering this constant pain of neuropathy. He is open to new methods of treating my constant pain.
Super place, super doctors. Took the time to explain everything to me.