Knee pain is one of the most common pain conditions that we see from our patients.  It can occur in anyone no matter their age, size, or weight.  There are many things that can cause pain in the knee, with some of the more common reasons being: sports injuries, bad posture, car accidents, genetics, and more.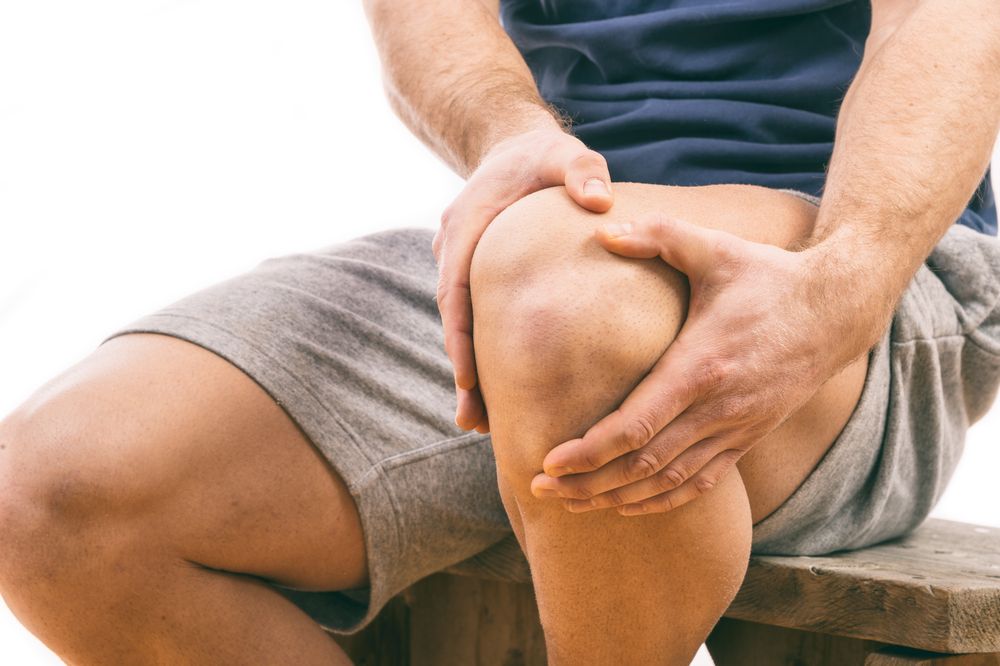 Causes of Knee Pain
Before looking at the causes of knee pain, it is important to understand that there is a difference in the types of knee pain you may be experiencing, mainly chronic knee pain vs acute knee pain. Acute knee pain is a more temporary type of pain that may go away after a period of time. This type of knee pain is usually a result of an injury or an accident.  Chronic knee pain is different: in the fact that it rarely goes away without treatment.
Causes of chronic knee pain are a bit harder to identify, but often are a result of one of the following:
dislocation
meniscus
osteoarthritis
tendinitis
bursitis
gout
rheumatoid arthritis (RA)
chondromalacia Patella
If not treated, the causes listed above can magnify and/or intensify, causes even more aches and pains in the knee and surrounding areas.
Knee Pain Symptoms
Chronic knee pain is usually not hard to detect.  Although it can vary from person to person, often times people experiencing this will feel the following symptoms:
constant aches
sharp and/or shooting pains in the knee
a dull burning or warm sensation
swelling
Treating Knee Pain
The treatment of knee pain will vary from patient to patient, depending on the underlying cause of it.  The most common types of knee pain treatments are:
physical therapy
surgery
injection
medications
If you need relief from chronic knee pain, contact our Dallas pain clinic today for an appointment.  If you need more immediate relief for temporary pain we suggest using a bag of ice on the knee for 15 minutes every few hours.  Again, this is a short-term solution that may provide temporary relief.  When applying this method, do not apply the ice directly to the knee, instead use a towel in between the ice and your skin.  Also, it is best to put the ice in a bag, such as a ziplock back.
Schedule an Appointment
If you or someone you know is suffering from chronic knee pain, the best option is to call a professional and seek the best methods of relief.  At Texas Pain Physicians, our doctors are board-certified in pain management and can help relieve any existing pain that you may have.
Give us a call today at 972-636-5727 and schedule an appointment with one of our Dallas Pain Doctors today.
We look forward to hearing from you!
What Our Patients are Saying
Dr. Muhammad was professional, knowledgeable and seemed to genuinely care about finding a solution to my pain problem.
Dr. Rasheed has been a wonderful doctor so far. He's very professional and confident. He has had a ton if ideas for us to try, which is completely different from my last pain mgt. doc. So far, he's been everything I could have asked in a pain mgt. doctor.
I love Dr. Abdelfattah! He is an amazing doctor. He has an excellent beside manner, and her Is very interested and concerned about his patients, and their diagnosis, and he is able to empathize with his patients. He is very skilled at preforming minimally invasive procedures that can really reduce pain. He is NOT a pill mill, but he is NOT scared to prescribe what the patient may need to be comfortable and to reduce pain. As far as I can tell the Pain Management Clinic is in full compliance with the State medical board's guidelines on Pain Management Clinics. I would send anyone who is seeking relief from their pain to him because he is going to do his very best to find out what is causing the pain, and the best way to treat it. Truly an AWESOME doctor!!! I nominate him as a TOP DOCTOR!!! Being a healthcare professional I know a good physician when I see one and this one is it!!!!
Staff was amazing, tell you what they think and give you options and really wants to know the underlined cause before they do anything. I think that's awesome and will recommend to anyone!!!
Everyone was so nice. Dr. Zhao explained things to me in a way I could understand everything. She had a smile on her face the whole time. It was like she was happy to see me. I really liked how the appointment turned out.
Dr. Syed listens to me & gives me hope for conquering this constant pain of neuropathy. He is open to new methods of treating my constant pain.
Super place, super doctors. Took the time to explain everything to me.