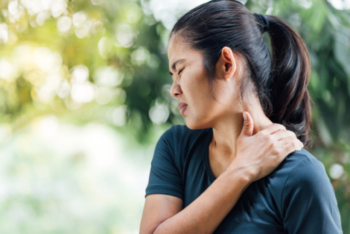 Many athletes call them 'stingers.' Doctors call them pinched or compressed nerves. 
And they hurt like giant bee stings. 
The pain usually hits in the neck, in an area known as the brachial plexus, where the nerves extend down into the arms.
Pinched nerves have sudden and gradual causes; they can strike suddenly when lifting a heavy object or gradually develop because of poor posture.
Here are seven things you can do to avoid suffering a pinched nerve.
1. Get Enough Sleep
The best way to prevent a pinched nerve is to let your mind and body recover from the day.
When you have more energy to think clearly, you are less likely to make uncoordinated movements that lead to injuries.  
2. Practice Good Sitting Posture
Consistent poor sitting posture can cause pinched nerves. Try to sit so that your neck isn't bent.
If you work in an office, adjust your monitor so that the top edge is eye level.
3. Stand More. 
Sitting for long periods with bad posture can cause pinched nerves. 
If you work at a table or desk, try adjusting your workstation so that you can work while standing.
4. Practice sound body mechanics.  
It's easy to strain your neck and back.
When getting into or out of bed, exercising, or hiking up a mountain, try to make smooth, mechanically sound body movements.
And if you have to move to a new place or help your neighbors move, lift heavy objects with your legs instead of your back. 
5. Don't play contact sports. 
Many people grow up playing contact sports like soccer, basketball, and American football.
The fitness aspect is good for you, but the contact can lead to pinched nerves and other sports injuries.
And pinched nerves are common injuries in contact sports. If you play contact sports, warm-up, stay hydrated, and take breaks. 
6. Do Strength and Flexibility Exercises.
Stretching and strength-building activities like yoga and pilates stretch the nerves in your neck and arms.
This loosens the tension and relieves pressure on your nerves, making pinched nerves less likely.
7. Do physical therapy.
Physical therapy methods like massage and cold laser therapy can prevent and lessen muscle strain and muscle inflammation. 
Pain Management and Treatment at Texas Pain Physicians
Have a pinched nerve or think you may be at risk for a pinched nerve? We have expert pain management doctors who treat them and help you prevent them. 
Give us a call at (972) 636-5727 or book your appointment today!
https://www.texaspainphysicians.com/wp-content/uploads/2021/06/shutterstock_1361944007-scaled-e1623950235381.jpg
234
350
https://www.texaspainphysicians.com/wp-content/uploads/2017/01/logo-300x78.png
2021-06-10 00:54:51
2021-11-05 15:12:58
The VERY Painful Pinched Nerve… 7 Ways to Avoid This Common Injury.