The upper back is the area between the base of the neck and the bottom of the ribcage.  Upper back pain is usually the result of poor posture, injury, or muscle overuse.  The thoracic spine are the twelve bones that make up the upper back. 
The first bone of the upper back begins at the base of the neck, and the 12th bone ends just below the ribcage.  Upper back pain can appear anywhere between these bones.  Most people describe upper back pain as a burning or pulling sensation in one place, which may be the location of injury or strain.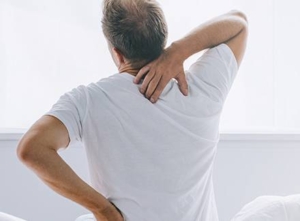 Causes of upper back pain
Poor posture
Slouching in a chair over a desk may cause a loss of strength in the muscles.  Over time, the weakening of muscles may lead to pain in the area as they experience strains or irritation.  Pressure from gravity and the body itself pushes on the spine, neck, discs, and ligaments.  This pressure can lead to pain and other complications.
Muscle overuse  
This typically occurs due to repeating the same motions over time.  This can cause muscle strain, tightness, and irritation.  An example is when someone makes the same motion all day or lifts things above their head throughout the day may start to experience muscle irritation, tightness, or strain.
Traumatic injury 
Injuries such as car accidents, slips or falls, lifting incorrectly and work related accidents may result in a traumatic injury that can lead to back pain.  These can be severe and can lead to lasting complications, including chronic pain, nerve damage, and paralysis.
Herniated disc  
Discs are the soft, rubbery cushions between each vertebra.  Herniated discs occur when a piece of this cushion pokes through and puts pressure on the spine.  This can cause pain and numbness or weakness in the arms or legs.
Pinched nerve  
A herniated disc can slip far enough out that it compresses a nearby nerve.
Osteoarthritis  
Osteoarthritis may lead to cartilage between bones wearing away causing the bones to rub together.  This can also put pressure on the nerves in the spine causing numbness or tingling in the arms and legs.
Preventing upper back pain
Take regular breaks from sitting, stretch and move different muscle groups.
Avoid twisting or lifting with the back when lifting heavy objects.
Avoid wearing heavy backpacks or purses.
Take a few minutes to stretch muscles or warm up the body before any activities.
Be conscious of posture at all times, walking upright and sitting correctly, using back supports when necessary.
Regular messages and physical therapy sessions help work out muscle tensions and strengthen weak muscles.
Lifestyle changes, including regular exercise and stretching helps in relieving upper back pain.  In case of chronic back pain, people should see a doctor for a proper diagnosis and treatment.
What Our Patients are Saying
Dr. Muhammad was professional, knowledgeable and seemed to genuinely care about finding a solution to my pain problem.
Dr. Rasheed has been a wonderful doctor so far. He's very professional and confident. He has had a ton if ideas for us to try, which is completely different from my last pain mgt. doc. So far, he's been everything I could have asked in a pain mgt. doctor.
I love Dr. Abdelfattah! He is an amazing doctor. He has an excellent beside manner, and her Is very interested and concerned about his patients, and their diagnosis, and he is able to empathize with his patients. He is very skilled at preforming minimally invasive procedures that can really reduce pain. He is NOT a pill mill, but he is NOT scared to prescribe what the patient may need to be comfortable and to reduce pain. As far as I can tell the Pain Management Clinic is in full compliance with the State medical board's guidelines on Pain Management Clinics. I would send anyone who is seeking relief from their pain to him because he is going to do his very best to find out what is causing the pain, and the best way to treat it. Truly an AWESOME doctor!!! I nominate him as a TOP DOCTOR!!! Being a healthcare professional I know a good physician when I see one and this one is it!!!!
Staff was amazing, tell you what they think and give you options and really wants to know the underlined cause before they do anything. I think that's awesome and will recommend to anyone!!!
Everyone was so nice. Dr. Zhao explained things to me in a way I could understand everything. She had a smile on her face the whole time. It was like she was happy to see me. I really liked how the appointment turned out.
Dr. Syed listens to me & gives me hope for conquering this constant pain of neuropathy. He is open to new methods of treating my constant pain.
Super place, super doctors. Took the time to explain everything to me.