Muscle pain and spasms are spontaneous muscle contractions. Many spasms occur because the nerve that connects to the muscle is irritated. Normal voluntary muscle contraction begins when electrical signals are sent from the brain through the spinal cord along nerve cells called motor neurons. Muscle spasms are abrupt, painful, and short-lived.
Symptoms and types of muscle spasms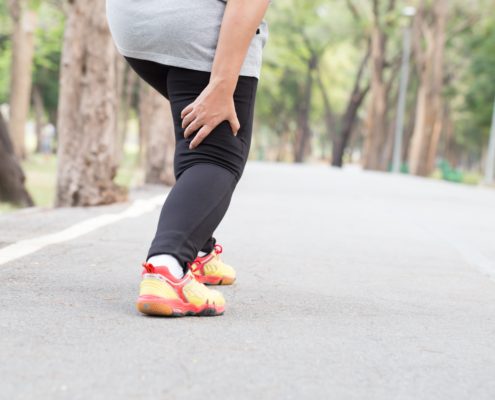 Skeletal muscle spasm symptoms: Muscle spasms can last a few seconds to a few minutes, and are usually very painful. These spasms are also known as a "charley horse," and can feel like a lump or knot under the skin until the pain settles down.
Smooth muscle spasm: Other types of muscles spasms happen within the walls of an organ (like the colon), and the pain associated is usually from menstrual cramps, gallbladder pain, diarrhea, or passing a kidney stone.
Dystonias: These are a very different type of muscle spasm in which there is a possible abnormality with the chemicals that help transmit signals within the brain. Symptoms include muscles contracting involuntarily resulting in abnormal postures or repetitive movements. Treatment for these type of spasms may only be resolved with Botox injections to relieve the spasms and paralyze the affected muscle, and certain medications to restore neurotransmitter levels back to normal.
Causes of muscle spasms: When a muscle is tired, previously injured, strained, or overused, muscle spasms are more likely to happen. Other causes of muscle spasms can be if the muscle has been overstretched, or held in the same position for a long period of time. When any overuse of a skeletal muscle happens, the muscle cell runs out of fluid and energy and becomes hyperexcitable, resulting in contractions by force.
Other causes of muscle spasms include
 Exercising a muscle that hasn't been exercised in a long time
Writing (also known as writer's cramp)
Dehydration and depletion of electrolytes
Atherosclerosis (narrowing of the arteries)
Chronic neck and back pain
Diseases of the nervous system such as multiple sclerosis, amyotrophic lateral sclerosis, or a spinal cord injury
Smooth muscle spasms caused by menstrual cramps, passing kidney stones, acid reflux, GERD, or diarrhea
Diagnosis and treatment of muscle spasms: Due to the wide variety of muscle spasms and why they happen, it is determined that a large number of people deal with them at one point in their lifetime. Many people are at risk of muscle spasms, especially if he/she has an occupation that is strenuous, performs a lot of physical activity, or a potential underlying cause that makes them happen often. Your doctor will start out by learning your basic medical history then he/she will perform a physical exam to determine the cause.
Since many people deal with these, it is usually something that is self-diagnosed and treated at home. However, if the symptoms are persistent and severe, it is something to be seen about. Your doctor will ask you when the muscle spasms appeared, how often they occur, and where they usually happen. Your doctor will also want to know if you take any medication, whether it is prescribed or over-the-counter vitamins. A physical exam is necessary even if you are currently not displaying any symptoms of muscle spasms- this exam can determine any underlying illnesses.
If muscle spasms happen often for no known reason, your doctor may want to perform certain tests such as
Complete blood count (CBC): this will check for medical issues such as anemia, glucose, creatine, and electrolytes (calcium, magnesium, potassium, and sodium). CBC may also check for thyroid issues.
Creatine phosphokinase (CPK) blood test: if your doctor is concerned with muscle damage or breakdown, he/she will order this test by checking your blood for an enzyme that is released into the bloodstream by damaged or irritated muscle tissue.
EMG test: this will check if there is muscle abnormality
ABI test: your doctor may suggest this test to test blood flow to the legs by checking blood pressure in both the arms and the legs.
Your diagnosis will determine your treatment for muscle spasms. If there are no underlying illnesses that cause muscle spasms, at-home treatment will be prescribed. This self-care routine will consist of making sure that you are drinking a lot of water, you are resting often, and will demonstrate certain stretches if you have a flare-up. If a muscle has been heavily strained, and anti-inflammatory medication such as ibuprofen will be suggested to take. If symptoms are very severe and constant, your doctor may prescribe a muscle relaxer, and if an underlying illness is determined, further testing and other appointments may be needed.
What Our Patients are Saying
Dr. Muhammad was professional, knowledgeable and seemed to genuinely care about finding a solution to my pain problem.
Dr. Rasheed has been a wonderful doctor so far. He's very professional and confident. He has had a ton if ideas for us to try, which is completely different from my last pain mgt. doc. So far, he's been everything I could have asked in a pain mgt. doctor.
I love Dr. Abdelfattah! He is an amazing doctor. He has an excellent beside manner, and her Is very interested and concerned about his patients, and their diagnosis, and he is able to empathize with his patients. He is very skilled at preforming minimally invasive procedures that can really reduce pain. He is NOT a pill mill, but he is NOT scared to prescribe what the patient may need to be comfortable and to reduce pain. As far as I can tell the Pain Management Clinic is in full compliance with the State medical board's guidelines on Pain Management Clinics. I would send anyone who is seeking relief from their pain to him because he is going to do his very best to find out what is causing the pain, and the best way to treat it. Truly an AWESOME doctor!!! I nominate him as a TOP DOCTOR!!! Being a healthcare professional I know a good physician when I see one and this one is it!!!!
Staff was amazing, tell you what they think and give you options and really wants to know the underlined cause before they do anything. I think that's awesome and will recommend to anyone!!!
Everyone was so nice. Dr. Zhao explained things to me in a way I could understand everything. She had a smile on her face the whole time. It was like she was happy to see me. I really liked how the appointment turned out.
Dr. Syed listens to me & gives me hope for conquering this constant pain of neuropathy. He is open to new methods of treating my constant pain.
Super place, super doctors. Took the time to explain everything to me.