Disc displacement, or slipped disk, happens when a disk in the spinal column becomes displaced from its original position and presses against the spinal nerves. The result of this happening is pain and muscles weakness.
Symptoms of Disc Displacement
The most common symptoms of disc displacement include: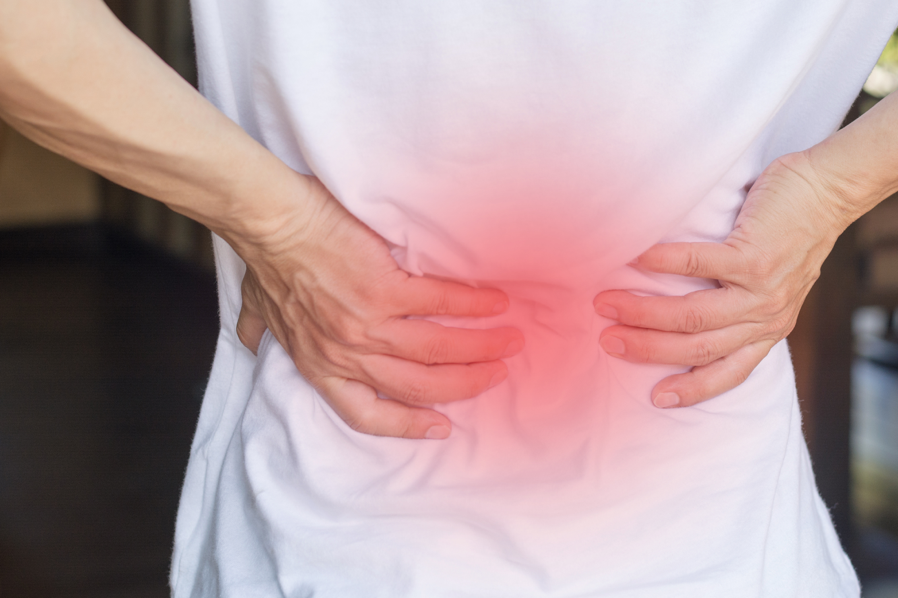 Weakness: nerves used to serve certain muscles will weaken which may result in stumbling, being unable to hold or lift items, or not having balance.
Tingling/numbness: the body part served by the affected nerves will have a numb or tingling sensation.
Leg/arm pain: if the displaced disk is in the lower back, the pain will be localized mostly in the buttocks, calf, and thigh, and could even affect the foot. If the displaced disk is in the neck, the pain will be felt mostly in the arm and shoulder. Coughing or sneezing can trigger shooting pain, as well as moving your spine into certain positions.
Causes of Disc Displacement
Normal aging and wear and tear (disk degeneration) is most often the cause of disc displacement. With only minor twists and turns, disks are more prone to rupturing or tearing because, with age, spinal discs lose some of their water content which makes them less flexible.
Other risks can lead to disc displacement such as:
Lifting a heavy and large object
Excess body weight causing extra stress on the disks in the lower back
Genetics: some people are predisposed to developing displaced disks
Having a very physically demanding job that includes heavy lifting, pushing, pulling, and bending sideways
Diagnosis and Treatment of Disc Displacement
There are many ways your doctor may go about a disc displacement or slipped disc diagnosis. After starting with medical histories to find out if anything has recently triggered the pain, your doctor will perform certain tests in order to diagnose correctly.
Certain stretches during your physical exam: your doctor will most likely have you bend your head to the sides and forward while they apply slight pressure to the top of your head. If this causes pain or numbness, then most likely a slipped disc is putting pressure on a nerve in your neck.
Leg-raising test: while sitting or laying flat, your doctor will gently raise one of your legs, then the other to see if either causes pain or discomfort in your legs. This test stretches certain nerves within the spine, which can cause numbness, pain, or tingling.
If your symptoms don't ease up after roughly 3 months, further testing will be done such as an MRI, CT scan, or x-rays.
Just like there are many ways to diagnose a slipped disc, there are also many different approaches to treatment depending on how debilitating your condition is during your normal daily routine. If your symptoms cause pain and discomfort, your doctor will most likely suggest the following:
Staying active: If the pain is too much to be active, you will be told to rest for a while. After a short resting period though, you should start gentle exercises and stretches as soon as you're able- it will help you strengthen and heal faster.
Taking painkillers: Taking certain OTC painkillers such as ibuprofen regularly (not just during pain flare-ups) will keep you moving.
For pain that is higher on the scale than just mild discomfort, your doctor may prescribe a stronger painkiller containing codeine. However, these painkillers can cause addiction and should only be used for a few days.
For pain that is more serious and crippling, your doctor may suggest:
A short-term use of muscle relaxers
A steroid injection
Physical therapy
Surgery is always the last option on the list if your symptoms haven't improved over an extended period of time, other treatments have failed, or worsening numbness or muscle weakness continues.
What Our Patients are Saying
Dr. Muhammad was professional, knowledgeable and seemed to genuinely care about finding a solution to my pain problem.
Dr. Rasheed has been a wonderful doctor so far. He's very professional and confident. He has had a ton if ideas for us to try, which is completely different from my last pain mgt. doc. So far, he's been everything I could have asked in a pain mgt. doctor.
I love Dr. Abdelfattah! He is an amazing doctor. He has an excellent beside manner, and her Is very interested and concerned about his patients, and their diagnosis, and he is able to empathize with his patients. He is very skilled at preforming minimally invasive procedures that can really reduce pain. He is NOT a pill mill, but he is NOT scared to prescribe what the patient may need to be comfortable and to reduce pain. As far as I can tell the Pain Management Clinic is in full compliance with the State medical board's guidelines on Pain Management Clinics. I would send anyone who is seeking relief from their pain to him because he is going to do his very best to find out what is causing the pain, and the best way to treat it. Truly an AWESOME doctor!!! I nominate him as a TOP DOCTOR!!! Being a healthcare professional I know a good physician when I see one and this one is it!!!!
Staff was amazing, tell you what they think and give you options and really wants to know the underlined cause before they do anything. I think that's awesome and will recommend to anyone!!!
Everyone was so nice. Dr. Zhao explained things to me in a way I could understand everything. She had a smile on her face the whole time. It was like she was happy to see me. I really liked how the appointment turned out.
Dr. Syed listens to me & gives me hope for conquering this constant pain of neuropathy. He is open to new methods of treating my constant pain.
Super place, super doctors. Took the time to explain everything to me.