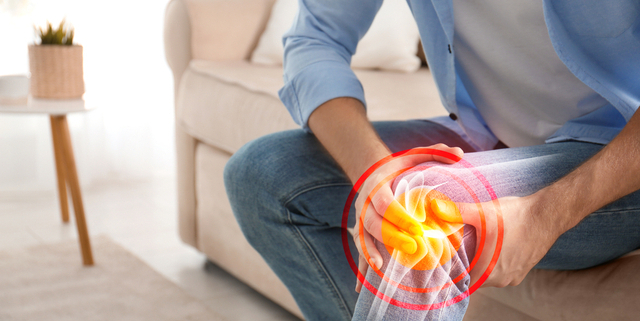 Missing out on life because of painful knees is frustrating. 
Getting months of pain relief after a few out-patient injections can be reinvigorating. 
How cushioning in knee joints breaks down.
Normal, healthy knees contain a gel-like substance called hyaluronan. 
Hyaluronan acts as a lubricant for cartilage, the tissue covering the ends of bones, providing joint cushioning or shock absorption. 
But in joints affected by osteoarthritis, rheumatoid arthritis, and gout (a complex form of inflammatory arthritis), the chemicals that make up hyaluronic acid break down, and levels of hyaluronic acid decrease.
With less and less lubricant, the cartilage wears out, and knee bones rub together, causing stiffness, inflammation, and pain. 
Knee Joint Gel Injections 
Your pain physician can replace that gel-like substance in your knee joint.
It's that simple.
The Procedure
Depending on the state of your knee joint, your doctor or pain specialist will either administer a single injection once or one injection weekly for three to five weeks. 
During the procedure, if the joint space in your knee is swollen with excess fluid, the doctor will first inject a local anesthetic to numb the area, then inject another needle for draining the fluid. 
She may use ultrasound or X-Ray to guide a needle into the joint and then inject the hyaluronic acid. 
How Quickly Does Relief Come? 
You may feel pain relief immediately or require several or more injections. 
And unlike steroid injections, the procedure can be repeated as many times as needed. 
You can return to regular activity within 24 hours of the injection. 
Most patients experience decreased pain and stiffness and improved range of motion soon after the injection. 
How long does it last?
Though individual responses vary, people can experience relief for months or even a year or more. 
In addition to pain relief, these injections can slow the progress of osteoarthritis, which causes the breakdown of cartilage. 
Who Is A Good Candidate?
Pain specialists typically recommend hyaluronic acid injection after experiencing little or no relief from conventional treatments, such as:
physical therapy

non-steroidal anti-inflammatory medication

corticosteroid injections

ice or cold therapy
Also, some people cannot take more corticosteroids due to the health risks associated with repeated use or can't tolerate NSAIDs due to disease and drug interactions. 
Knee Pain Relief at Texas Pain Physicians (TPP)
To learn more about how a pain management doctor can help you overcome your knee pain issues, visit the pain specialists at TPP. 
We help people like you every day. 
Get the discussion started by calling (972) 636-5727 or schedule an appointment online.
https://www.texaspainphysicians.com/wp-content/uploads/2022/03/shutterstock_1765999304-e1647528346394.jpg
239
425
https://www.texaspainphysicians.com/wp-content/uploads/2017/01/logo-300x78.png
2022-03-17 15:16:09
2022-03-17 15:16:09
Knee Joint Gel Injections: Get Relief from Arthritis Knee Pain for Months or More!