Trigeminal Neuralgia (TN)
Trigeminal Neuralgia is a chronic pain condition that affects the trigeminal nerve, which carries sensation from your face to your brain.  The condition is rare with about 12 cases per 100,000 people in the United States each year.
There are two separate trigeminal nerves, one on each side of the face.  Each nerve has three branches (forehand, midface and chin).  It possible to have TN on any, or all branches.  TN causes intense pain in part or all of the face.  The pain generally occurs on one side of the face and may be brought on by sound or touch.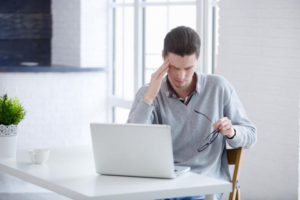 Trigeminal Neuralgia Symptoms and triggers
The pain from TN can come in sharp spasms that feel like electric shocks.
Brushing your teeth
Shaving
Touching your face
Eating or drinking
Putting on makeup
A breeze on our face
Speaking
Bouts of pain may last a few seconds or minutes.  A series of attacks can last days, weeks or months, followed by periods of remission.  The condition can progress in severity and frequency and in some cases; the pain or ache can become constant.
Trigeminal Neuralgia Causes
A swollen blood vessel or tumor that puts pressure on the nerve.
Multiple Sclerosis, a condition that damages the myelin sheath, which is the protective coating around nerves.
However, in many cases the cause of TN is never found.  TN is more common among women than men and more common in people over the age of 50.
If Trigeminal Neuralgia is suspected, the diagnosis will depend on the type and location of pain and factors that trigger the pain.  Your doctor will evaluate your medical history and perform a physical exam and a neurological exam.  Other tests may be ordered to rule out other conditions similar such as cluster headaches or postherpetic neuralgia, which is a painful condition that affects nerve fibers and skin.  An MRI also may be ordered of your head to determine if multiple sclerosis is causing your pain.
Trigeminal Neuralgia Treatments
Medications such as anti-seizure medications which block nerve firing, muscle relaxants, tricyclic antidepressants.
Surgeries which may include:
Glycerol Injections in which a needle is used to release sterile glycerol through your check and into the base of your skull.
Stereotactic Radiosurgery which uses computer imaging that delivers highly focused beams of radiation to the root of the nerve.
Radiofrequency Thermal Lesioning which includes guiding an electrical current into the trigeminal nerve using a long hollow needle.   
Gamma-Knife Radiosurgery that uses targeting radiation that destroys the trigeminal nerve.  It is the least invasive option.
Microvascular Decompression involves brain surgery by relieving pressure from the affected nerves and allowing them to heal.
Proper treatment is essential to treating TN.  Acupuncture and nutritional therapy may also help with your symptoms.  Talk to your doctor before starting any alternative treatments.
What Our Patients are Saying
Dr. Muhammad was professional, knowledgeable and seemed to genuinely care about finding a solution to my pain problem.
Dr. Rasheed has been a wonderful doctor so far. He's very professional and confident. He has had a ton if ideas for us to try, which is completely different from my last pain mgt. doc. So far, he's been everything I could have asked in a pain mgt. doctor.
I love Dr. Abdelfattah! He is an amazing doctor. He has an excellent beside manner, and her Is very interested and concerned about his patients, and their diagnosis, and he is able to empathize with his patients. He is very skilled at preforming minimally invasive procedures that can really reduce pain. He is NOT a pill mill, but he is NOT scared to prescribe what the patient may need to be comfortable and to reduce pain. As far as I can tell the Pain Management Clinic is in full compliance with the State medical board's guidelines on Pain Management Clinics. I would send anyone who is seeking relief from their pain to him because he is going to do his very best to find out what is causing the pain, and the best way to treat it. Truly an AWESOME doctor!!! I nominate him as a TOP DOCTOR!!! Being a healthcare professional I know a good physician when I see one and this one is it!!!!
Staff was amazing, tell you what they think and give you options and really wants to know the underlined cause before they do anything. I think that's awesome and will recommend to anyone!!!
Everyone was so nice. Dr. Zhao explained things to me in a way I could understand everything. She had a smile on her face the whole time. It was like she was happy to see me. I really liked how the appointment turned out.
Dr. Syed listens to me & gives me hope for conquering this constant pain of neuropathy. He is open to new methods of treating my constant pain.
Super place, super doctors. Took the time to explain everything to me.