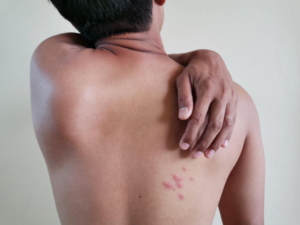 Shingles is a viral infection that cases a painful rash and can occur anywhere on your body.  Shingles most often appears as a single stripe of blisters that wraps around either the left or the right side of your torso, face or neck. 
Shingles is caused by the varicella-zoster virus, which is the same virus that causes chickenpox.  Even after the chickenpox infection is over the virus may live in your nervous system for years before reactivating as shingles.
Symptoms of shingles
Raised dot on your skin and redness in that area
Stabbing or shooting pain
Tingling in or under your skin
Itching
Fluid-filled blisters that break open and crust over
Some people may also experience:
Fever
Headache
Fatigue
Chills
Once the varicella zoster virus gets into your body, the first problem it causes is chickenpox.  Many think of chickenpox as a childhood disease, but adults can get it too.  After chickenpox runs its course, the virus moves into the nerve tissues near your spinal cord and brain where it stays.  Sometimes the virus will "wake up" and will travel along nerve fibers to your skin.  That's when it lands as shingles, also called herpes zoster.
Shingles risk factors
Ages 50 or older
Have had a serious physical injury
Are under a lot of stress
Have had HIV, cancer, or another disease that lowers your body's defenses
Take long-term steroids or other medicines that can weaken your immune system
The varicella zoster virus can be spread to people who have never had chickenpox and haven't been vaccinated.  You are contagious until all of the sores have crusted over.  Until then avoid newborns, people with weak immune systems and pregnant woman who may not have had chicken pox or the vaccine.
Treatment
FDA approved vaccines – Shingrix and Zostavax, these are recommended for people 50 and over
Antiviral drugs (taken within 3 days of the start of rash) – Acyclovir (Zovirax), Famciclovir (Famvir), Valacyclovir (Valtrex)
Over-the-counter drugs like ibuprofen or acetaminophen
Cool compresses
Medicated lotion
Colloidal oatmeal baths
Prescription painkillers like codeine
The shingles vaccine does not guarantee you won't get shingles but will likely reduce the course and severity of the disease.  There is no cure for shingles, but treating it as soon as possible can help prevent complications and speed your recovery.  Ideally, you should be treated within 72 hour of developing symptoms.
What Our Patients are Saying
Dr. Muhammad was professional, knowledgeable and seemed to genuinely care about finding a solution to my pain problem.
Dr. Rasheed has been a wonderful doctor so far. He's very professional and confident. He has had a ton if ideas for us to try, which is completely different from my last pain mgt. doc. So far, he's been everything I could have asked in a pain mgt. doctor.
I love Dr. Abdelfattah! He is an amazing doctor. He has an excellent beside manner, and her Is very interested and concerned about his patients, and their diagnosis, and he is able to empathize with his patients. He is very skilled at preforming minimally invasive procedures that can really reduce pain. He is NOT a pill mill, but he is NOT scared to prescribe what the patient may need to be comfortable and to reduce pain. As far as I can tell the Pain Management Clinic is in full compliance with the State medical board's guidelines on Pain Management Clinics. I would send anyone who is seeking relief from their pain to him because he is going to do his very best to find out what is causing the pain, and the best way to treat it. Truly an AWESOME doctor!!! I nominate him as a TOP DOCTOR!!! Being a healthcare professional I know a good physician when I see one and this one is it!!!!
Staff was amazing, tell you what they think and give you options and really wants to know the underlined cause before they do anything. I think that's awesome and will recommend to anyone!!!
Everyone was so nice. Dr. Zhao explained things to me in a way I could understand everything. She had a smile on her face the whole time. It was like she was happy to see me. I really liked how the appointment turned out.
Dr. Syed listens to me & gives me hope for conquering this constant pain of neuropathy. He is open to new methods of treating my constant pain.
Super place, super doctors. Took the time to explain everything to me.