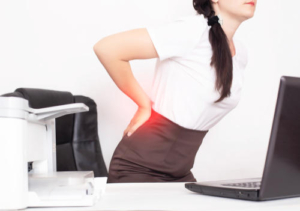 A spinal infection is a rare, but often serious, form of disease that occurs when fungi, bacteria or viruses invade the spinal tissue.  These foreign agents can attack any part of the spine including the vertebrae, spinal disks, meninges, spinal canal and even the spinal cord.
When these pathogens infect our intervertebral discs, doctors refer to this condition as Discitis, or disc inflammation.  When these bugs attack the bones of our spine, we refer to the disease as Osteomyelitis.  When a spinal infection occurs, the bone can begin to deteriorate and collapse upon itself.
Symptoms
Pain that is worse with movement and doesn't respond well to medication and rest
Low back pain
Fever
Chills
Night sweats
Bowel and bladder incontinence
Swelling or redness at the infection site
Unexplained weight loss
Weakness, tingling or numbness in the arms and legs
Causes
Post-surgical infections
Poor nutrition
Obesity
Steroid use
Diabetes
HIV
Cancer
History of organ transplant
If a spinal infection is suspected, imaging scans such as x-rays, computed tomography (CT) or magnetic resonance imaging (MRI) are typically ordered, often utilizing contract dye to highlight the areas of damage.  If a deep infection is suspected, your interventional neurologist may use image guidance and a catheter to obtain a biopsy.  Lab work to diagnose a spinal infection may include examining white blood cell count or markers for inflammation.
Treatment
Intravenous Antibiotic Medications.

 

To kill the infection, antibiotics may be prescribed for anywhere from 7 to 10 days, to 6 to 12 weeks.

 

A central line may need to be placed in order to assist in the administration of longer-term medications.
Bracing and Rest.

 

These treatments help to improve stability while the spine heals.
Laminectomy.

 

This is performed by removing a portion of your vertebra (or lamina) to increase space and relieve pressure.
Anterior Lumbar Interbody Fusion (ALIF).

 

Your doctor removes the source of infection and then performs a spinal infusion by inserting a bone graft that will permanently fuse the two vertebras together for support.
Since vertebral discs do not have a good blood supply, antibiotics will not always kill the infection.  In these cases, or when nerve compression has occurred, surgical options may be necessary to treat the infection and repair the damage to the spine (or prevent further damage)
What Our Patients are Saying
Dr. Muhammad was professional, knowledgeable and seemed to genuinely care about finding a solution to my pain problem.
Dr. Rasheed has been a wonderful doctor so far. He's very professional and confident. He has had a ton if ideas for us to try, which is completely different from my last pain mgt. doc. So far, he's been everything I could have asked in a pain mgt. doctor.
I love Dr. Abdelfattah! He is an amazing doctor. He has an excellent beside manner, and her Is very interested and concerned about his patients, and their diagnosis, and he is able to empathize with his patients. He is very skilled at preforming minimally invasive procedures that can really reduce pain. He is NOT a pill mill, but he is NOT scared to prescribe what the patient may need to be comfortable and to reduce pain. As far as I can tell the Pain Management Clinic is in full compliance with the State medical board's guidelines on Pain Management Clinics. I would send anyone who is seeking relief from their pain to him because he is going to do his very best to find out what is causing the pain, and the best way to treat it. Truly an AWESOME doctor!!! I nominate him as a TOP DOCTOR!!! Being a healthcare professional I know a good physician when I see one and this one is it!!!!
Staff was amazing, tell you what they think and give you options and really wants to know the underlined cause before they do anything. I think that's awesome and will recommend to anyone!!!
Everyone was so nice. Dr. Zhao explained things to me in a way I could understand everything. She had a smile on her face the whole time. It was like she was happy to see me. I really liked how the appointment turned out.
Dr. Syed listens to me & gives me hope for conquering this constant pain of neuropathy. He is open to new methods of treating my constant pain.
Super place, super doctors. Took the time to explain everything to me.