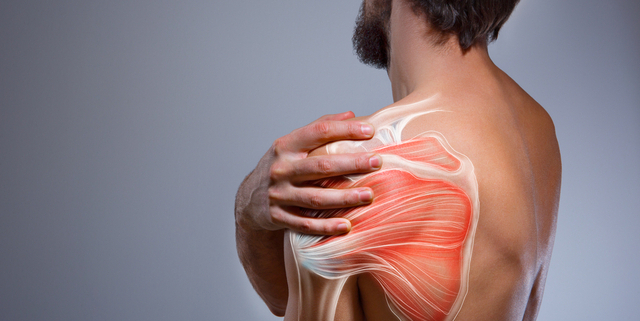 That nagging shoulder pain that's hung around a while could be more than a pulled muscle. 
Weekend sports, carrying and moving things, horsing around with your kids, reaching to wash your back in the shower – whatever life brings your way, if it ends with shoulder pain and weakness, it may be a torn rotator cuff.
Please see a specialist ASAP. 
The rotator cuff is the group of muscles that keep the shoulder stable.
And torn rotator cuffs DON'T heal on their own. 
You could develop a painful degenerative rotator cuff issue without timely surgical repair. 
Also, as you age into your 40s and beyond, arthritis is more and more likely to set in.
Arthritic shoulder degeneration will eventually require shoulder replacement surgery.
What to expect from your visit. 
The first appointment with a pain specialist is similar to an appointment with a general practitioner. 
First, they will take down your medical history. 
Next, they will give you a physical exam and take some x-rays. 
If there is muscle weakness in the shoulder, they will typically order an MRI appointment at a medical imaging facility.
Treatment 
Pain specialists will recommend natural, conservative treatments such as over-the-counter medicines and physical therapy whenever possible.
Conservative Therapies
Rest, heat and cold therapy (cold and hot compresses and packs), and anti-inflammatory medication such as aspirin can help soothe and heal minor rotator cuff injuries.
Physical Therapy
Physical therapists are experts in restoring function and lessening the pain and stiffness of rotator cuff injuries. 
Pain specialists often recommend physical therapists.
Whether you need to heal after a muscle pull or rehab after rotator cuff surgery, they can help speed the process.
Steroid Injection
If you have severe shoulder pain, your pain therapist may recommend a corticosteroid injection.
These injections can provide pain relief for up to several months. 
However, this is not a long-term pain management solution because multiple steroid injections can cause permanent tendon weakness.
Surgery
Surgery may be needed for severe rotator cuff injuries – whether they happened a while ago and have become degenerative or were recently torn.
Three types of rotator cuff surgery: 
1. Tendon repair – Minor, arthroscopic (small incision) procedure, and an open or large incision procedure.
2. Tendon transfer – Involves replacing the damaged tendon with a tendon taken from another body part.
3. Shoulder replacement – The most invasive procedure for the most severe injuries, degeneration, and severe arthritis.
Rotator Cuff Treatment in Dallas, Houston, Irving, and Other Texas Locales
If you're experiencing shoulder pain and think you may have a torn rotator cuff or another injury, Texas Pain Physicians can help. 
Our shoulder specialists can find the cause of your pain and develop a personalized treatment plan. 
Please give us a call today at (972) 636-5727 or book an appointment online.
https://www.texaspainphysicians.com/wp-content/uploads/2022/02/shutterstock_1919745623-e1645713493907.jpg
245
435
https://www.texaspainphysicians.com/wp-content/uploads/2017/01/logo-300x78.png
2022-02-24 14:51:16
2022-02-24 14:51:16
Get that (Suspected) Rotator Cuff Injury Diagnosed and Treated ASAP!