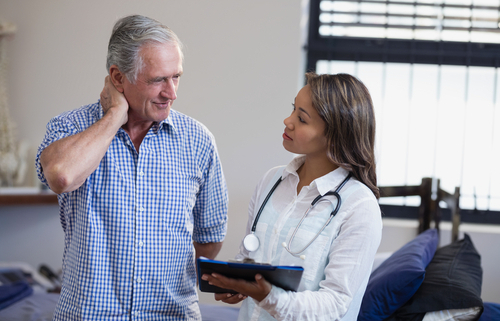 Most chronic or long-term pain and discomfort comes from wear and tear, injuries, and overuse — three things no one can avoid if they live long enough.
Neck pain and discomfort symptoms include:
Neck pain

Neck stiffness and reduced range of motion

Headaches

Muscle weakness in the arm, hand, or shoulder

Numbness, prickling, and tingling in the forearm, hand, and fingers
Pain specialists typically recommend non-invasive conservative treatments to relieve chronic neck pain. Below is a list of some of the most common treatments for neck pain:
1. Steroid Injections 
Some treatments take a while to relieve chronic neck pain. Steroid injections can provide relief within hours that can last for weeks or even months.
A simple outpatient procedure that takes a few minutes, a steroid injection can reduce or eliminate chronic neck pain long enough for you to start realizing benefits from physical therapy and other non-drug treatments.
2. Occupational Therapy 
Occupational therapists can help you improve your daily ergonomic awareness at work, on the go, and around the home.
For example, poor sitting and standing posture can cause chronic neck pain. Occupational therapy can teach you healthy moving and non-moving posture that involves maintaining your spine's three natural curves (neck, mid-back, and lower back). 
3. Physical Therapy
A certified physical therapist can develop a stretching and strengthening routine tailored to your body. Consistent stretching and strengthening help your body heal faster and keep your neck and spine healthy.
Physical therapists may also recommend therapeutic devices, such as cervical or neck traction devices, to help relieve your neck pain. A neck traction device can ease neck pain related to nerve root irritation by gently stretching the neck.

4. Lifestyle/DIY Remedies
Over-the-Counter (OTC) Medicines
OTC non-steroidal anti-inflammatories like Advil (ibuprofen) and Aleve (naproxen), and pain relievers like Tylenol (acetaminophen) can be effective pain management for chronic neck pain. 
R & R
Like a sore throat or a pulled hamstring, getting enough rest and sleep can help decrease chronic neck pain. 
Applying cold packs or compresses and warm compresses or heat pads to your neck can be comfortable and relaxing.
With chronic neck pain, which occurs because of damage to the neck's bones, discs, and joints, this therapy likely won't provide much, if any, pain relief. It may, however, provide some added comfort and relaxation that can help you rest. 
6. Prescription Medications
Muscle Relaxants 
If your chronic neck pain is making you lose sleep, muscle relaxants may help. Though pain specialists typically prescribe muscle relaxants for acute pain, these meds also cause drowsiness which can help you rest and sleep better. 
Tricyclic Antidepressants
Your pain specialist may recommend tricyclic antidepressants, especially if your chronic neck pain is nerve-related. 
Opioid Painkillers
If other treatments don't work, your pain specialist might recommend painkillers on a short-term basis. 
7. Alternative Medicine
Alternative therapies such as chiropractic, acupuncture, and massage may relieve neck pain. If conventional treatments haven't worked for you, you might want to ask your pain specialist about these therapies. 
Chronic Neck Pain Treatment in Houston, Dallas, and Other TX Locales
At Texas Pain Physicians, we provide comprehensive pain treatment. Our friendly pain specialists will assess your medical history, pain condition, and recovery goals to develop a unique pain treatment plan for you.
Please give us a call today or book your appointment online!
https://www.texaspainphysicians.com/wp-content/uploads/2021/09/shutterstock_680138044-e1632428664838.jpg
247
370
https://www.texaspainphysicians.com/wp-content/uploads/2017/01/logo-300x78.png
2021-09-23 20:25:32
2021-11-01 16:41:06
7 Treatments for Chronic Neck Pain