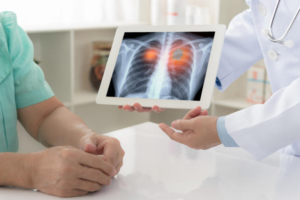 Thoracic Outlet Syndrome (TOS) is when you have swelling, pain or other symptoms from compression in your thoracic outlet, which is the opening between your lower neck and upper chest.  It can cause tingling and numbness in your shoulders, especially when you raise your arms.
The thoracic outlet is the narrow space between your collarbone and top ribs.  Muscles run through it from your neck to your shoulder, along with the nerves and blood vessels that go down your arm.  When something presses on them, you can have pain and other symptoms.
Types of Thoracic Syndrome Types
Neurogenic.

 

Affects nerves leading from the spinal cord to the neck to the arm.

 

Most thoracic outlet syndrome cases involve nerves.
Arterial.

 

Affects the arteries
Venous.

 

Affects the veins
The condition is more common in women.  It also often seen in athletes and workers who make repeated arm motions.  But it can affect anyone.
Symptoms of Thoracic Outlet Syndrome
Pain in the neck, shoulder or arm
Swelling
Weakness
Tingling and numbness
Cold hands
Discoloration – red, blue or pale colors
Atrophy (when the muscle or tissue in your arms start to waste away)
Painful lump near your collarbone
Weak pulse in your affected arm
Gilliatt-Sumner hand which is the shrinking of the muscle in the fleshy base of your thumb
Risk factors and causes of Thoracic Outlet Syndrome
Injuries such as whiplash or broken collarbone, or an injury that can leave scar tissue and inflammation.
Repetitive stress can affect people who move their arms in a particular way over and over.
Poor posture.

 

Slumping can cause your collarbone to move out of place and press on your nerves.

 

Weak shoulder muscles can cause bad posture.
Sleep disorders
Obesity can put extra weight on your muscles.
Depression or stress
When Thoracic Outlet Syndrome is diagnosed, your doctor may begin by asking questions about the history of your symptoms followed by a physical exam.  Imaging tests such as an X—ray, CT Scan, MRI or an Ultrasound can detect an abnormal physical feature or a possible blockage or narrowing of blood vessels. Depending on the type of Thoracic Outlet Syndrome, treatments may include medication such as ibuprofen or naproxen, Botox shots, and sometimes surgery.
Thoracic Outlet Syndrome should be treated as soon as possible.  If it's not, it can lead to more serious issues such as nerve damage, blood clots, and blood flow problems.
What Our Patients are Saying
Dr. Muhammad was professional, knowledgeable and seemed to genuinely care about finding a solution to my pain problem.
Dr. Rasheed has been a wonderful doctor so far. He's very professional and confident. He has had a ton if ideas for us to try, which is completely different from my last pain mgt. doc. So far, he's been everything I could have asked in a pain mgt. doctor.
I love Dr. Abdelfattah! He is an amazing doctor. He has an excellent beside manner, and her Is very interested and concerned about his patients, and their diagnosis, and he is able to empathize with his patients. He is very skilled at preforming minimally invasive procedures that can really reduce pain. He is NOT a pill mill, but he is NOT scared to prescribe what the patient may need to be comfortable and to reduce pain. As far as I can tell the Pain Management Clinic is in full compliance with the State medical board's guidelines on Pain Management Clinics. I would send anyone who is seeking relief from their pain to him because he is going to do his very best to find out what is causing the pain, and the best way to treat it. Truly an AWESOME doctor!!! I nominate him as a TOP DOCTOR!!! Being a healthcare professional I know a good physician when I see one and this one is it!!!!
Staff was amazing, tell you what they think and give you options and really wants to know the underlined cause before they do anything. I think that's awesome and will recommend to anyone!!!
Everyone was so nice. Dr. Zhao explained things to me in a way I could understand everything. She had a smile on her face the whole time. It was like she was happy to see me. I really liked how the appointment turned out.
Dr. Syed listens to me & gives me hope for conquering this constant pain of neuropathy. He is open to new methods of treating my constant pain.
Super place, super doctors. Took the time to explain everything to me.