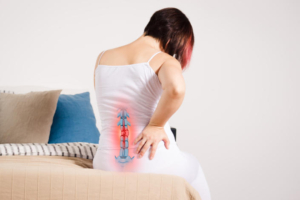 Spondylosis is a type of arthritis spurred by wear and tear to the spine.  It happens when joints and discs degenerate, when bone spurs grow on the vertebrae or both.  These changes can impair the spine's movement and affect the nerves or other functions.  Some people can develop spondylosis at an earlier age depending on certain risk factors including history of trauma, history of smoking, occupations that require hard labor or genetic predisposition.
Types of spondylosis
Cervical spondylosis is the most common type that affects the neck during aging.
Thoracic spondylosis affects the middle of the spine.
Lumbar spondylosis affects the lower back.
Multilevel spondylosis affects more than one part of the spine.
As a person ages, the intervertebral disks, that help achieve smooth movement and cushion against any impact on the bones, become thinner, drier, and harder and loose cushion ability.  This is why an older person is more likely to have a compression fracture resulting from bone collapsing in the spine.  This commonly occurs with osteoporosis.  The joints between the vertebrae that allow the spine to move flexibly, also function less well with age due to wear and tear on the cartilage surfaces.
Cartilage that separate the vertebrae may also erode causing the bones to rub together and can result in formation of bony growths called bone spurs.
Risk factors
Having injured the spine or undergone spinal surgery
Having a sedentary lifestyle with lack of exercise
Being obese or overweight
Having a genetic tendency
Smoking
Having a job that requires repetitive or weight-bearing movements that involved the spine
Having psoriatic arthritis
Having a mental health condition such as depression or anxiety
Symptoms
Muscle spasms and pain
A grinding or popping when moving the spine
Weakness in the hands or legs
Poor coordination
Difficulty walking and loss of balance
Loss of bladder or bowel control
Treatment: (Home remedies)
Over-the-counter pain relief medication, Non-steroidal anti-inflammatory drugs such as ibuprofen.
Improving posture
Keep physically active with low impact exercise like walking or swimming
Back support, choose a chair or mattress that supports the back better
Rest during inflammation periods
Other medical treatments that help manage symptoms include chiropractic treatment, acupuncture, messages, ultrasound treatment or electrical stimulation.
If symptoms are severe and persistent and other treatments have not helped, a doctor may suggest surgery especially if damage is likely to get worse without the surgery.
What Our Patients are Saying
Dr. Muhammad was professional, knowledgeable and seemed to genuinely care about finding a solution to my pain problem.
Dr. Rasheed has been a wonderful doctor so far. He's very professional and confident. He has had a ton if ideas for us to try, which is completely different from my last pain mgt. doc. So far, he's been everything I could have asked in a pain mgt. doctor.
I love Dr. Abdelfattah! He is an amazing doctor. He has an excellent beside manner, and her Is very interested and concerned about his patients, and their diagnosis, and he is able to empathize with his patients. He is very skilled at preforming minimally invasive procedures that can really reduce pain. He is NOT a pill mill, but he is NOT scared to prescribe what the patient may need to be comfortable and to reduce pain. As far as I can tell the Pain Management Clinic is in full compliance with the State medical board's guidelines on Pain Management Clinics. I would send anyone who is seeking relief from their pain to him because he is going to do his very best to find out what is causing the pain, and the best way to treat it. Truly an AWESOME doctor!!! I nominate him as a TOP DOCTOR!!! Being a healthcare professional I know a good physician when I see one and this one is it!!!!
Staff was amazing, tell you what they think and give you options and really wants to know the underlined cause before they do anything. I think that's awesome and will recommend to anyone!!!
Everyone was so nice. Dr. Zhao explained things to me in a way I could understand everything. She had a smile on her face the whole time. It was like she was happy to see me. I really liked how the appointment turned out.
Dr. Syed listens to me & gives me hope for conquering this constant pain of neuropathy. He is open to new methods of treating my constant pain.
Super place, super doctors. Took the time to explain everything to me.