Tendonitis is inflammation or irritation of a tendon.  Tendons are thick cords that join your muscles to your bones.  Tendonitis can cause acute pain and tenderness making it difficult to move the affected joint.  While tendonitis can occur in any of your tendons, it's most common around your shoulders, elbows, wrists, knees and heels.   Common names for various tendonitis problems are Tennis elbow, Golfer's elbow, Pitcher's shoulder, Jumper's knee and Swimmer's shoulder.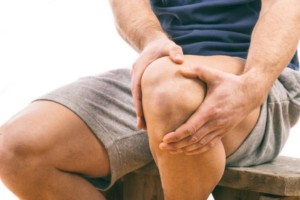 Causes of tendonitis
Injury
Aging – as people get older, their tendons become less flexible making injury easier
Certain diseases such as rheumatoid arthritis or diabetes
Certain antibiotics such as Levaquin or quinolones
If your job requires physical exertion, overhead lifting or repetitive motions or tasks, you may be at higher risks.  Also athletes who participate in certain sports, such as tennis, bowling, golf or basketball are at higher risks.
Symptoms of tendonitis
Pain described as a dull ache, especially when moving the affected limb or joint
Tenderness
Mild swelling
Normally your doctor can diagnose tendonitis during the physical exam alone.  Your doctor may order X-rays or other imaging tests if it's necessary to rule out other conditions that may be causing your signs or symptoms.
Treatment Options
Resting and elevation
Applying ice or heat
Medications such as pain reliever acetaminophen (Tylenol) and anti inflammatory drugs aspirin (Bayer), ibuprofen (Advil, Motrin) and naproxen (Aleve, Naprosyn)
Doing stretches and exercises to build strength and improve mobility
Wrapping the area in compression bandages
For more severe conditions:
Supports such as splints, braces or a cane
Corticosteroid injections
Physical therapy
There are some simple steps to lower your chances of developing tendonitis such as keeping physically fit, warming up before exercising, avoiding repetitive motions, and use proper equipment at work and during athletic activities.
When treated early, tendonitis usually resolves quickly.  For some people, it can recur and become a chronic or long-term problem.    If a tendon should rupture or if inflammation continues without treatment, surgery may be necessary.  Also surgery may be necessary for cases that don't respond well to other treatments.
What Our Patients are Saying
Dr. Muhammad was professional, knowledgeable and seemed to genuinely care about finding a solution to my pain problem.
Dr. Rasheed has been a wonderful doctor so far. He's very professional and confident. He has had a ton if ideas for us to try, which is completely different from my last pain mgt. doc. So far, he's been everything I could have asked in a pain mgt. doctor.
I love Dr. Abdelfattah! He is an amazing doctor. He has an excellent beside manner, and her Is very interested and concerned about his patients, and their diagnosis, and he is able to empathize with his patients. He is very skilled at preforming minimally invasive procedures that can really reduce pain. He is NOT a pill mill, but he is NOT scared to prescribe what the patient may need to be comfortable and to reduce pain. As far as I can tell the Pain Management Clinic is in full compliance with the State medical board's guidelines on Pain Management Clinics. I would send anyone who is seeking relief from their pain to him because he is going to do his very best to find out what is causing the pain, and the best way to treat it. Truly an AWESOME doctor!!! I nominate him as a TOP DOCTOR!!! Being a healthcare professional I know a good physician when I see one and this one is it!!!!
Staff was amazing, tell you what they think and give you options and really wants to know the underlined cause before they do anything. I think that's awesome and will recommend to anyone!!!
Everyone was so nice. Dr. Zhao explained things to me in a way I could understand everything. She had a smile on her face the whole time. It was like she was happy to see me. I really liked how the appointment turned out.
Dr. Syed listens to me & gives me hope for conquering this constant pain of neuropathy. He is open to new methods of treating my constant pain.
Super place, super doctors. Took the time to explain everything to me.