A compression fracture is a collapse of a vertebra. It may be due to trauma or due to a weakening of the vertebra. This weakening is seen in patients with osteoporosis or osteogenesis imperfecta, lytic lesions from metastatic or primary tumors, or infection. In healthy patients, it is most often seen in individuals suffering extreme vertical shocks, such as ejecting from an ejection seat.
Compression Fracture Symptoms
Back pain is the main symptom that will appear. Sometimes, the pain can start slow and get worse over time, and other times the onset will be sudden with a sharp pain. If you are a woman near or above the age of 50, it is very important to let your doctor know your symptoms.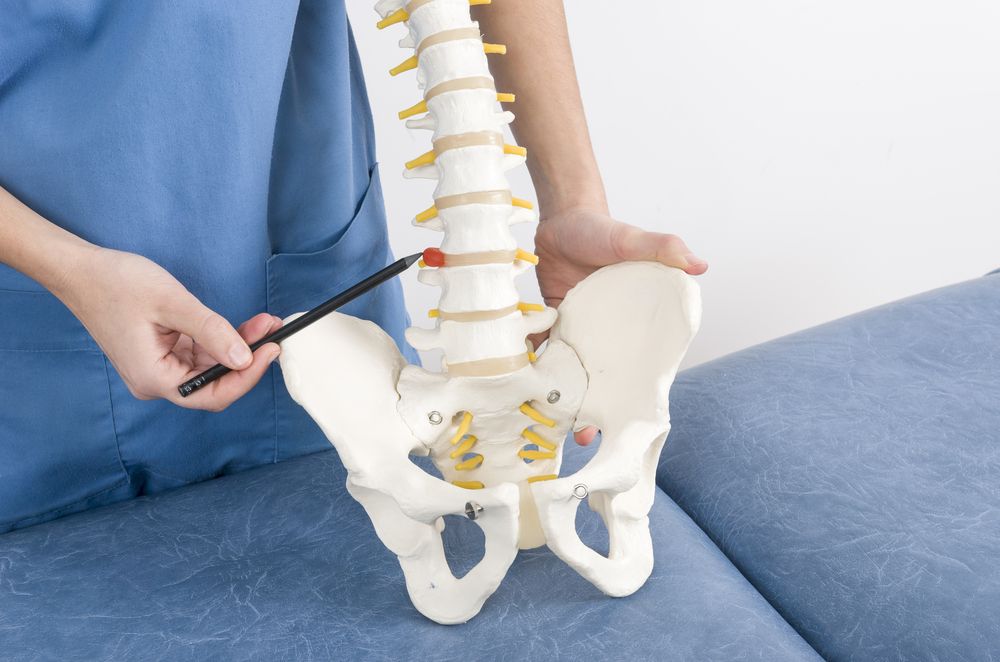 Spinal compression fractures also cause symptoms such as:
Trouble or inability twisting or bending your body
A curved spine
Loss of height
Increasing pain when you walk or stand and mild relief when you lie down
The pain commonly occurs when you slightly strain your back doing normal daily activities such as bending down to pick something up, lifting bags of groceries, doing daily chores, or if you trip. After the fracture has healed, some people still feel discomfort. Other times, symptoms are barely noticeable due to the cracks happening very gradually causing the pain to be very mild.
Symptoms of Multiple Spinal Compression Fractures
Multiple fractures create a lot of changes and more noticeable symptoms. With multiple fractures, parts of your vertebrae may collapse due to the weight of your spine being unsupported. Symptoms of multiple fractures include:
Breathing problems: Your lungs may not work appropriately if the spine is severely compressed and breathing may become difficult
Height loss: The spine gets slightly shorter with each spinal bone fracture. You will look shorter with each collapsed vertebrae.
Stomach issues: Just like compressed lungs, your stomach will become compressed with a shorter spine which can lead to digestive problems like weight loss, constipation, and little to no appetite.
Kyphosis (curved back): A wedge shape forms that makes the spine arch forward when vertebrae collapse. With kyphosis, back and neck pain will occur due to your body attempting to adapt.
Hip pain: A shorter spine brings your hipbones and rib cage closer together. It can become painful if the bones begin rubbing against each other.
Causes of Compression Fractures
When people think of compression fractures, it's easy to assume the back pain is simply from growing older. This is a highly probable reason, but there are other underlying illnesses that cause a fracture.
Osteoporosis: A lot of the time, osteoporosis is to blame for the fractures. Osteoporosis causes bones to become thin and weak. This is very common in women around the age 60 that have gone through menopause. If you have severe osteoporosis, even sneezing or coughing can cause multiple fractures.
Cancer: Compression fractures can be the first signs of a person having cancer, or they can be a result of cancer spreading to the bones. The most common cancers that cause compression fractures are lymphoma and myeloma. If you have been diagnosed with either, your doctor will keep an eye out for compression fractures.
People at a higher risk for compression fractures are white and Asian women, women over the age of 50, thin women, smokers (bone thickness is lost faster by smokers than nonsmokers), and women who went through menopause before the age 50.
Diagnosis and Treatment of Compression Fractures
If you suspect you have a compression fracture, your doctor will check for sensitivity and tenderness around specific vertebrae along the spinal cord. From there, if your doctor suspects a fracture, he/she will order an x-ray to confirm the diagnosis.
Treatment: Compression fractures can be treated with or without surgery. Surgery isn't preferred unless there are multiple severe fractures.
Vertebroplasty: This treatment is minimally invasive and it helps to eliminate or reduce pain caused by the fracture and stabilize the bone. In order to stabilize the fracture, low viscosity cement is injected into the collapsed vertebrae to alleviate pain.
Fracture treatment: Usually surgery is not recommended, and instead home care or physical therapy is advised. Home care can include pain medication, resting, applying ice or heat to sore areas, and working slowly back to mobility.
Kyphoplasty is another minimally invasive procedure much like vertebroplasty. This procedure also involved reducing or eliminating pain due to a fracture or osteoporosis by stabilizing the bones and restoring some of the height that was lost.
What Our Patients are Saying
Dr. Muhammad was professional, knowledgeable and seemed to genuinely care about finding a solution to my pain problem.
Dr. Rasheed has been a wonderful doctor so far. He's very professional and confident. He has had a ton if ideas for us to try, which is completely different from my last pain mgt. doc. So far, he's been everything I could have asked in a pain mgt. doctor.
I love Dr. Abdelfattah! He is an amazing doctor. He has an excellent beside manner, and her Is very interested and concerned about his patients, and their diagnosis, and he is able to empathize with his patients. He is very skilled at preforming minimally invasive procedures that can really reduce pain. He is NOT a pill mill, but he is NOT scared to prescribe what the patient may need to be comfortable and to reduce pain. As far as I can tell the Pain Management Clinic is in full compliance with the State medical board's guidelines on Pain Management Clinics. I would send anyone who is seeking relief from their pain to him because he is going to do his very best to find out what is causing the pain, and the best way to treat it. Truly an AWESOME doctor!!! I nominate him as a TOP DOCTOR!!! Being a healthcare professional I know a good physician when I see one and this one is it!!!!
Staff was amazing, tell you what they think and give you options and really wants to know the underlined cause before they do anything. I think that's awesome and will recommend to anyone!!!
Everyone was so nice. Dr. Zhao explained things to me in a way I could understand everything. She had a smile on her face the whole time. It was like she was happy to see me. I really liked how the appointment turned out.
Dr. Syed listens to me & gives me hope for conquering this constant pain of neuropathy. He is open to new methods of treating my constant pain.
Super place, super doctors. Took the time to explain everything to me.