Degenerative Disc Disease
Degenerative disc disease is a spinal condition caused by the breakdown of your intervertebral discs. It is one of the most common causes of lower neck and back pain. As you age, your spine begins to show signs of wear and tear as your discs dry out and shrink. These age-related changes can lead to arthritis, disc herniation, or spinal stenosis, which can put pressure on your spinal cord and nerves and may cause back pain.
Symptoms of DDD
Degenerative disc disease has many consistent symptoms including:
Pain and discomfort generally related to physical activity that will flare up at times then return to a low-grade pain level or pain that completely disappears after a flare-up
The baseline level of pain is different for everyone; some people deal with simple irritation, while others deal with pain that is disabling
Neck and back pain can last for several months before returning to the patient's baseline level of pain
Rarely, the chronic pain from degenerative disc disease can be completely disabling
Running or walking can feel better for longer periods of time than sitting or laying down
Certain positions make the pain worse or better. Sitting usually makes the pain worse.
Bending, twisting, and lifting will make the pain worse
Causes of DDD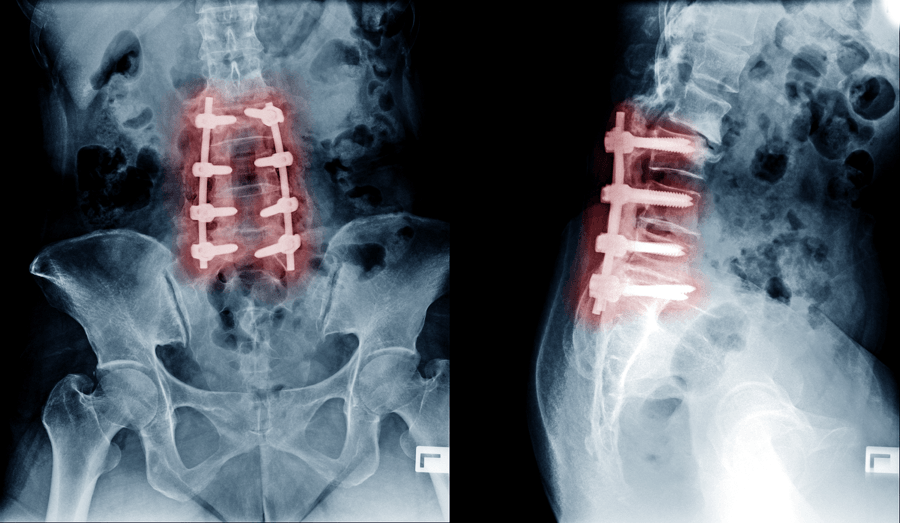 Degenerative disc disease can be caused by an injury, but that's rarely the case. Usually, DDD is caused by wear and tear, a low energy injury to the disc that progresses over an extended period of time, inflammation, or abnormal micro-motion instability.
Abnormal micro-motion instability happens when the outer rings of the disc (annulus fibrosis) cannot absorb stress on the spine effectively due to them being worn down. When proteins in the space of the disc irritate nerves that are surrounding, inflammation occurs that cause pain and can radiate down nerves in the legs.
Diagnosis and treatment of DDD
Diagnosis of degenerative disc disease is most often a 3-step process including:
Your doctor collecting your medical history, learning when the pain started, positions and daily activities that make the pain better or worse, and figuring out the most prominent symptoms and pain levels.
Physical exam: this will most likely include your doctor testing your range of motion, tenderness, and muscle strength around the lower back and the back of the legs.
If lumbar DDD is suspected, your doctor will most likely order an MRI scan to rule out any other causes of symptoms
Medication that controls inflammation and pain in combination with physical therapy and exercise alleviates DDD in most cases. The only time surgery is considered if nonsurgical treatment hasn't worked after six months.
The first form of home treatment is to not aggravate the condition. This will include cutting out activities that rotate the back, such as playing sports like golf or doing any heavy lifting.
An exercise plan will be implemented and is essential to the treatment of DDD pain and healing. Walking and swimming are commonly suggested, as well as stretching and back strengthening exercises.
What Our Patients are Saying
Dr. Muhammad was professional, knowledgeable and seemed to genuinely care about finding a solution to my pain problem.
Dr. Rasheed has been a wonderful doctor so far. He's very professional and confident. He has had a ton if ideas for us to try, which is completely different from my last pain mgt. doc. So far, he's been everything I could have asked in a pain mgt. doctor.
I love Dr. Abdelfattah! He is an amazing doctor. He has an excellent beside manner, and her Is very interested and concerned about his patients, and their diagnosis, and he is able to empathize with his patients. He is very skilled at preforming minimally invasive procedures that can really reduce pain. He is NOT a pill mill, but he is NOT scared to prescribe what the patient may need to be comfortable and to reduce pain. As far as I can tell the Pain Management Clinic is in full compliance with the State medical board's guidelines on Pain Management Clinics. I would send anyone who is seeking relief from their pain to him because he is going to do his very best to find out what is causing the pain, and the best way to treat it. Truly an AWESOME doctor!!! I nominate him as a TOP DOCTOR!!! Being a healthcare professional I know a good physician when I see one and this one is it!!!!
Staff was amazing, tell you what they think and give you options and really wants to know the underlined cause before they do anything. I think that's awesome and will recommend to anyone!!!
Everyone was so nice. Dr. Zhao explained things to me in a way I could understand everything. She had a smile on her face the whole time. It was like she was happy to see me. I really liked how the appointment turned out.
Dr. Syed listens to me & gives me hope for conquering this constant pain of neuropathy. He is open to new methods of treating my constant pain.
Super place, super doctors. Took the time to explain everything to me.