The neck is a coordinated network that includes a complex makeup of nerves, joints, bones, and muscles that are directed by the brain and the spinal chord.  The neck is also called the cervical spine, helps the human body with stability, nerve communication, and strength.  Pain in the neck one of the more common conditions that we see, and there can be several types of neck pain that one may experience.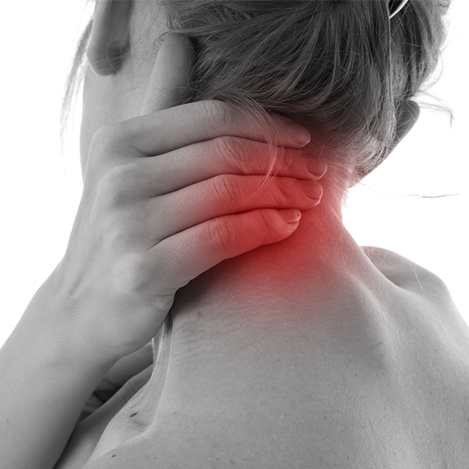 Causes of Neck Pain
Like many other common areas of body pain, including shoulder pain, back pain, and knee pain, neck pain causes can vary based on many factors.  Some people experience sharp, piercing pains in the neck, while others experience a more dull, achey type of pain.  Similarly, some patients experience short-term pain while others a more long-term pain.
Either way, understanding the causes of neck pain is crucial in order to provide the proper diagnosis and treatment to allow for a full recovery.  The most common types of neck pain that we see are due to strains or sprains.  These are typically due to an irritated or overused muscle, tendon, or ligament.  Common causes of strains and sprains are:
Sleeping in the wrong position
Poor posture
Sports injuries
Repetitive motions
Whiplash
If the neck pain has persisted for 3 more more months, it could be a more serious case.  In these instances, the following are common causes of neck pain:
Cervical degenerative disc disease
Cervical herniated disc
Cervical osteoarthritis
Cervical spinal stenosis with myelopathy
Cervical foraminal stenosis
The causes above are just a few of the more common causes of neck pain.  As you can see, there are many possible reasons.  It is best to see a pain specialists to get a proper diagnosis.
Neck Pain Treatments in Dallas
With neck pain, often times patients are able to be treated successfully with nonsurgical methods.  But, like other pains, it varies on the actual cause of the pain.  Many conditions, however, require similar things that can cause temporary relief, such as: rest and relaxation, ice packs, heat packs, massages, posture improvement, and over-the-counter meds.  With chronic neck pain conditions, however, more advanced treatment options are the best solution.
At Texas Pain Physicians, we provide a number of different treatment options that can be specifically tailored to your unique neck pain condition.  This way, we can treat you specifically and have you back to feeling your best as soon as possible.
Schedule An Appointment Today
If you or someone you know is suffering from neck pain in Dallas or a surrounding area, call Texas Pain Physicians at (972) 636-5727 and schedule an appointment today!
What Our Patients are Saying
Dr. Muhammad was professional, knowledgeable and seemed to genuinely care about finding a solution to my pain problem.
Dr. Rasheed has been a wonderful doctor so far. He's very professional and confident. He has had a ton if ideas for us to try, which is completely different from my last pain mgt. doc. So far, he's been everything I could have asked in a pain mgt. doctor.
I love Dr. Abdelfattah! He is an amazing doctor. He has an excellent beside manner, and her Is very interested and concerned about his patients, and their diagnosis, and he is able to empathize with his patients. He is very skilled at preforming minimally invasive procedures that can really reduce pain. He is NOT a pill mill, but he is NOT scared to prescribe what the patient may need to be comfortable and to reduce pain. As far as I can tell the Pain Management Clinic is in full compliance with the State medical board's guidelines on Pain Management Clinics. I would send anyone who is seeking relief from their pain to him because he is going to do his very best to find out what is causing the pain, and the best way to treat it. Truly an AWESOME doctor!!! I nominate him as a TOP DOCTOR!!! Being a healthcare professional I know a good physician when I see one and this one is it!!!!
Staff was amazing, tell you what they think and give you options and really wants to know the underlined cause before they do anything. I think that's awesome and will recommend to anyone!!!
Everyone was so nice. Dr. Zhao explained things to me in a way I could understand everything. She had a smile on her face the whole time. It was like she was happy to see me. I really liked how the appointment turned out.
Dr. Syed listens to me & gives me hope for conquering this constant pain of neuropathy. He is open to new methods of treating my constant pain.
Super place, super doctors. Took the time to explain everything to me.