Radiculopathy is a condition due to a compressed nerve in the spine that can cause pain, numbness, tingling, or weakness along the course of the nerve. Radiculopathy can occur in any part of the spine, but it is most common in the lower back (lumbar radiculopathy) and in the neck (cervical radiculopathy).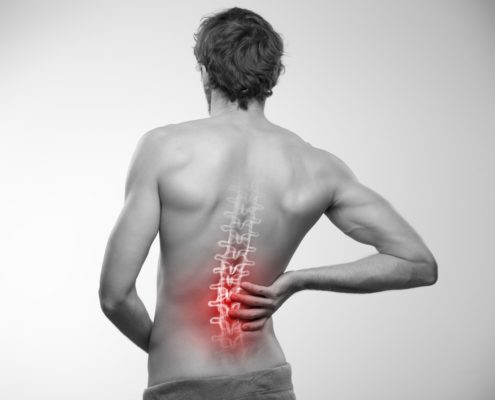 With the compression of the spinal nerve root, the pain actually runs down the leg rather than the back in most cases.
Symptoms of lumbar radiculopathy
 When people think of lumbar radiculopathy, thoughts result in lower back pain. Many people consider sciatica to be the most common symptom of
The most common symptoms of people experiencing lumbar radiculopathy include weakness, tingling, pain, numbness, and reflex loss. The symptoms are most often present in the leg and foot, but can cause pain in the buttocks as well. The type of pain associated with LR is steady and deep which can worsen with certain positions and activities, such as sitting and walking.
Causes of lumbar radiculopathy
When spinal nerve roots are compressed or irritated by a certain condition, lumbar radiculopathy occurs. There can be many causes of LR that also result in sciatica. Sciatica is usually diagnosed separately along with the condition that is causing it. Some of the causes of lumbar radiculopathy include conditions such as:
A herniated disc with nerve compression- the most common cause of LR.
Foraminal stenosis- this is most common in elderly adults and happens when arthritis or bone spurs cause the hole that the spinal nerve exits to narrow.
Nerve root injuries
Diabetes
 Scar tissue from a past spinal surgery that is irritating the nerve root.
Diagnosis and treatment of lumbar radiculopathy
 In order to diagnose you correctly, your doctor will want to collect information about your medical history. This will help him/her closely determine what the cause of LR could be and if you need treatment for a separate condition such as diabetes. After your doctor learns more about your medical history, a physical exam will be performed next.
During your physical exam, your doctor will look for limitations in the movement of the spine. They will also check for problems with balance, muscle weakness, sensory loss, problems with balance, or abnormal reflexes that suggest an involvement of the spinal cord.
If your doctor suspects lumbar radiculopathy, most often they will want to confirm the diagnosis with an X-ray or an MRI. These imaging tests will confirm the diagnosis by showing the impingement on the nerve root.
If your doctor suspects that another underlying condition such as diabetes is causing your lumbar radiculopathy, he/she will do tests that will correctly diagnose an alternative condition.
Treatment for your diagnosis
If you are diagnosed with LR, your treatment of roughly 6-8 weeks will begin with non-surgical treatment such as:
Physical therapy: This will be designed and developed to relieve pain and discomfort by learning different exercise or stretches. These exercises/stretches will work by stabilizing the spine and giving the nerve roots more open space.
Medications: To treat LR, the medications most often used are non-steroidal anti-inflammatory drugs (NSAIDs) to reduce inflammation, swelling, and pain.
Injections: Certain direct injections such as an epidural steroid injection or a nerve root injection quickly treats acute pain that radiates into the hips or throughout the leg and reduces associated swelling.
Surgery is rare in most cases of lumbar radiculopathy but may be necessary in a few cases. Surgery for LR involves stabilizing the spine or decompressing the nerve.
What Our Patients are Saying
Dr. Muhammad was professional, knowledgeable and seemed to genuinely care about finding a solution to my pain problem.
Dr. Rasheed has been a wonderful doctor so far. He's very professional and confident. He has had a ton if ideas for us to try, which is completely different from my last pain mgt. doc. So far, he's been everything I could have asked in a pain mgt. doctor.
I love Dr. Abdelfattah! He is an amazing doctor. He has an excellent beside manner, and her Is very interested and concerned about his patients, and their diagnosis, and he is able to empathize with his patients. He is very skilled at preforming minimally invasive procedures that can really reduce pain. He is NOT a pill mill, but he is NOT scared to prescribe what the patient may need to be comfortable and to reduce pain. As far as I can tell the Pain Management Clinic is in full compliance with the State medical board's guidelines on Pain Management Clinics. I would send anyone who is seeking relief from their pain to him because he is going to do his very best to find out what is causing the pain, and the best way to treat it. Truly an AWESOME doctor!!! I nominate him as a TOP DOCTOR!!! Being a healthcare professional I know a good physician when I see one and this one is it!!!!
Staff was amazing, tell you what they think and give you options and really wants to know the underlined cause before they do anything. I think that's awesome and will recommend to anyone!!!
Everyone was so nice. Dr. Zhao explained things to me in a way I could understand everything. She had a smile on her face the whole time. It was like she was happy to see me. I really liked how the appointment turned out.
Dr. Syed listens to me & gives me hope for conquering this constant pain of neuropathy. He is open to new methods of treating my constant pain.
Super place, super doctors. Took the time to explain everything to me.