Cervical radiculopathy is the clinical description of pain and neurological symptoms resulting from any type of condition that irritates a nerve in the cervical spine (neck). These nerves (C1-C8) work like roots in designated vertebral levels except for the last nerve, C8, which exits below the C7 vertebra. The cervical nerves branch out and help muscles like your fingers, hands, arms, and shoulders function appropriately.
Symptoms of Cervical Radiculopathy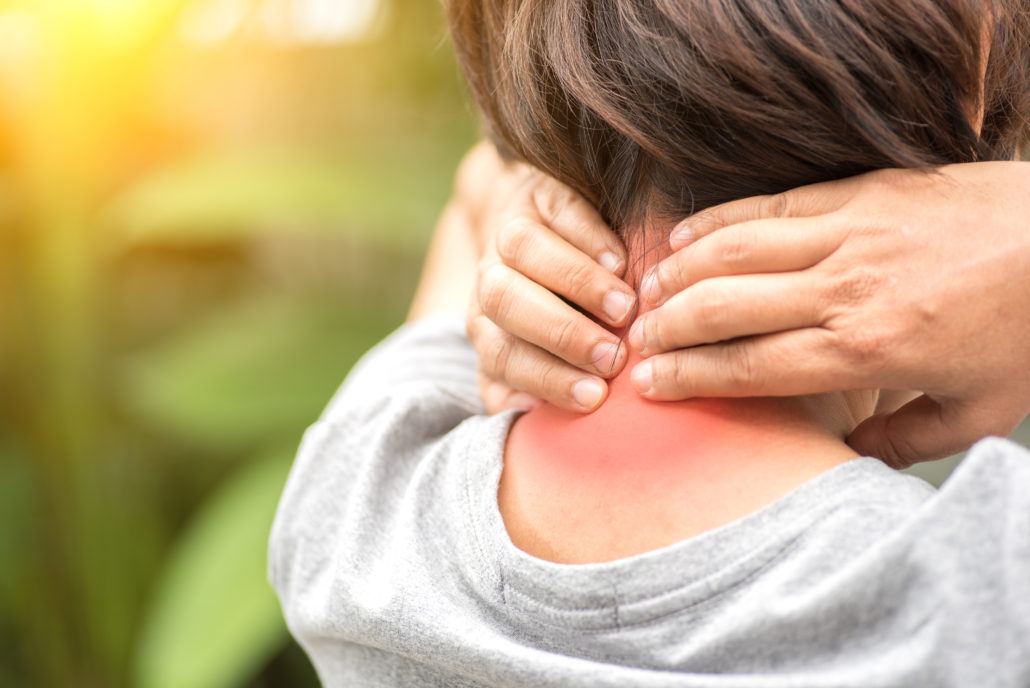 These nerves in your spine are highly sensitive, and if one becomes inflamed, compressed, or irritated, this can result in many acute symptoms such as weakness/numbness anywhere in the direction the nerve flows-the shoulder, arm, hand, and fingers. You may not only just feel weak and numb in these areas, but other symptoms may include pain and a tingling sensation.
These feelings are fleeting, meaning at first they will come and go. However, over time, they can grow stronger and last longer. The pain, weakness, and numbness can grow over time or they can start abruptly.
What Causes Cervical Radiculopathy
Certain conditions can cause nerves to become compressed or irritated such as:
Cervical Spinal Stenosis. In people over the age of 60, cervical spinal stenosis is a common cause of cervical radiculopathy. Over time, the cervical spine degenerates and many changes happen to the spinal joints that cause space to tighten in the spinal canal.
Cervical Herniated Disc. The material inside of a cervical disc can leak out and impinge or inflame the nerve adjacent. When this happens, cervical radiculopathy is a common symptom. If someone in their 20's or 30's has cervical radiculopathy, most likely the cause is from a herniated disc.
Cervical Degenerative Disc Disease. Over time, discs in the cervical spine become stiffer and flatter due to spinal degeneration. When the discs become like this, it is hard for them to support the spine as well and this process can lead to impingement or inflammation of the closest nerve root. Cervical degenerative disc disease is a common cause of radiculopathy for people over the age of 50.
How you're Diagnosed with Cervical Radiculopathy
Since cervical radiculopathy and carpal tunnel have extremely similar symptoms, it is always important to be seen by a medical professional in order to receive a correct diagnosis. In order to create a treatment plan, there will be exams to determine if you have CR or Carpal Tunnel.
If you are experiencing symptoms such as neck pain and/or tingling that feels like pins and needles, numbness, or weakness in the hand, arm, or shoulder-present these symptoms to your doctor and most likely your doctor will start by gathering your medical history, he/she will give you a physical exam and check for any tenderness or abnormalities. Your doctor will also check your necks range of motion and strength.
Furthermore, a test will be done called 'Spurling's test.' This is also part of the physical exam, and this test allows your doctor to see if compressing the cervical spine will result in temporarily worsen your symptoms.
In order to do this accurately, your doctor will most likely have you turn your head to the side that the symptoms are present, and then he/she will apply pressure on top of the head which will cause the cervical foramen (bony holes in the spine where nerve roots exist) to narrow and compress.
This will likely stimulate radicular symptoms that you have been experiencing. If symptoms appear, it is likely that cervical radiculopathy is present.
Cervical Radiculopathy Treatment
Fortunately, there are many ways to treat cervical radiculopathy and you will have many options to choose from. Depending on the underlying cause, there will be medicine to take, physical therapy, and even surgery in the future may relieve some pressure.
Usually, your doctor will initially provide medicine to take, such as a pain medication like corticosteroids (a powerful anti-inflammatory) or they may choose a non-steroidal pain medication such as naproxen or ibuprofen in combination with physical therapy.
Steroids are often prescribed to take orally, but your doctor may administer an injection epidurally (in a small space surrounding the Dura-where the membrane surrounds the spinal cord).
Physical therapy may include lightly exercising and stretching the area to alleviate the pain, as well as mobilization and cervical traction. If pain becomes more severe, surgery may be necessary to alleviate pressure.
Dr. Rasheed Is the best I have encountered in this past year of trying to get help with all of the back, neck, and chest pain I am having! He really made sure to take the time I needed to feel comfortable with the pain management plan he is going about. I have not experienced a Dr. that was so thorough and passionate about helping me, not only get out of pain, but my overall health and quality of life.
The entire crew are very efficient and very professional and extremely understanding of their patients needs. Keep the good work everyone!
This clinic is so much more than just a pain management center. It is a lifestyle change. Everything is available to you when you are ready and at the appropriate time in your plan of care. You are expected to do your part and be responsible with the opportunity for self improvement you are given. I feel my story has been heard and the care I am getting is exceptional and I don't have to bear the burden alone because there are things I never thought were out there that can help me there. Dr. Z is brilliant in technique, skill and bedside manner as well as his other associates I have seen. Super organized! And I am a nurse so it is rare I am this satisfied and for the right reasons because I am getting better and have my life back! Thank you Dr. Z!
I love Dr. Abdelfattah! He is an amazing doctor. He has an excellent beside manner, and her Is very interested and concerned about his patients, and their diagnosis, and he is able to empathize with his patients. He is very skilled at preforming minimally invasive procedures that can really reduce pain. He is NOT a pill mill, but he is NOT scared to prescribe what the patient may need to be comfortable and to reduce pain. As far as I can tell the Pain Management Clinic is in full compliance with the State medical board's guidelines on Pain Management Clinics. I would send anyone who is seeking relief from their pain to him because he is going to do his very best to find out what is causing the pain, and the best way to treat it. Truly an AWESOME doctor!!! I nominate him as a TOP DOCTOR!!! Being a healthcare professional I know a good physician when I see one and this one is it!!!!
Staff was amazing, tell you what they think and give you options and really wants to know the underlined cause before they do anything. I think that's awesome and will recommend to anyone!!!
Everyone was so nice. Dr. Zhao explained things to me in a way I could understand everything. She had a smile on her face the whole time. It was like she was happy to see me. I really liked how the appointment turned out.