Carpal tunnel syndrome is the weakness, pain, numbness, or tingling in your hand caused by pressure on the median nerve in your wrist. The wrist bones on the bottom and a ligament create the carpal tunnel over the top. The median nerve runs through the tunnel along with the flexor tendons to the wrist. The pressure within the tunnel can compromise the nerve and lead to carpal tunnel syndrome.
Symptoms/Causes of Carpal Tunnel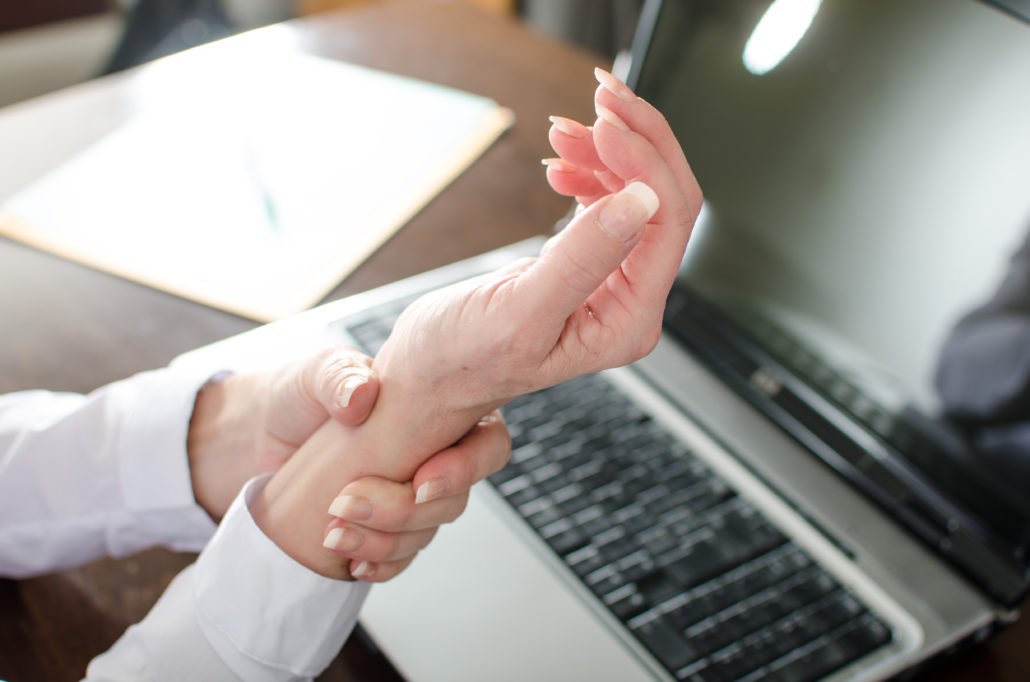 Carpal tunnel can be mild, moderate, and severe. Symptoms usually develop gradually and cause numbness, tingling, and pain in your hand from pressure on the median nerve on your wrist.
Anything that causes pressure on the median nerve will result in carpal tunnel. There are a few diagnoses that make carpal tunnel smaller and the pressure can come from any sort of swelling. Many things can attribute to this swelling such as:
Pregnancy
Cramping hand movements over a long period of time, such as keeping the wrist bent in a certain way or making the same hand movements repeatedly
Illnesses such as diabetes, rheumatoid arthritis, and hypothyroidism.
Diagnosis
First and foremost, your doctor will ask you if you have any illnesses or health problems such as diabetes, hypothyroidism, or rheumatoid arthritis. Your doctor will also ask you if you are pregnant. If none of the above, he or she will want to know if you have recently hurt your neck, arm, or wrist, and they will also want to know about your daily routine.
After this, your exam will consist of your doctor checking your mobility, strength, and feeling of your hands, wrists, arms, shoulders, and neck. Your doctor may suggest nerve or blood tests to check for any underlying causes.
Treatment for Carpal Tunnel
Some symptoms are mild, and treatment usually consists of home care. Start by:
Reducing daily activities that result in numbness or pain. Rest your wrist in intervals.
Wearing a wrist splint while you sleep or at any time you are feeling discomfort-this takes pressure off of the median nerve.
Try using nonsteroidal anti-inflammatory drugs to reduce swelling and relieve pain/tension.
Place ice on your wrists for 10 minutes or a few times an hour.
If you are diagnosed with an above illness, you might be placed on medications. As soon as you noticed symptoms, it is important to start treatment. The sooner you start taking care of carpal tunnel, the less likely you'll have long-term damage to the median nerve.
What Our Patients are Saying
Dr. Muhammad was professional, knowledgeable and seemed to genuinely care about finding a solution to my pain problem.
Dr. Rasheed has been a wonderful doctor so far. He's very professional and confident. He has had a ton if ideas for us to try, which is completely different from my last pain mgt. doc. So far, he's been everything I could have asked in a pain mgt. doctor.
I love Dr. Abdelfattah! He is an amazing doctor. He has an excellent beside manner, and her Is very interested and concerned about his patients, and their diagnosis, and he is able to empathize with his patients. He is very skilled at preforming minimally invasive procedures that can really reduce pain. He is NOT a pill mill, but he is NOT scared to prescribe what the patient may need to be comfortable and to reduce pain. As far as I can tell the Pain Management Clinic is in full compliance with the State medical board's guidelines on Pain Management Clinics. I would send anyone who is seeking relief from their pain to him because he is going to do his very best to find out what is causing the pain, and the best way to treat it. Truly an AWESOME doctor!!! I nominate him as a TOP DOCTOR!!! Being a healthcare professional I know a good physician when I see one and this one is it!!!!
Staff was amazing, tell you what they think and give you options and really wants to know the underlined cause before they do anything. I think that's awesome and will recommend to anyone!!!
Everyone was so nice. Dr. Zhao explained things to me in a way I could understand everything. She had a smile on her face the whole time. It was like she was happy to see me. I really liked how the appointment turned out.
Dr. Syed listens to me & gives me hope for conquering this constant pain of neuropathy. He is open to new methods of treating my constant pain.
Super place, super doctors. Took the time to explain everything to me.