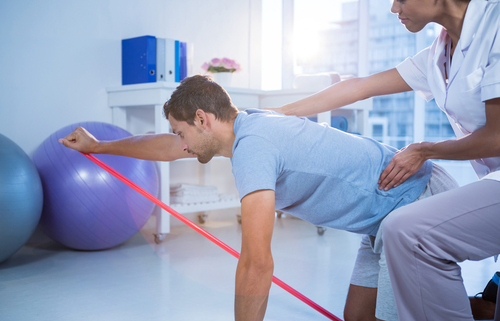 Thoracic outlet syndrome (TOS) can be extremely painful and debilitating. Treatment and medication for TOS depend on the specific type.
Treatment for Neurogenic Thoracic Outlet Syndrome (NTOS)
Neurogenic thoracic outlet syndrome occurs when the nerves leading from the neck to the arm are compressed. Over 90 percent of cases of thoracic outlet syndrome are neurogenic.
Symptoms include but are not limited to:
pain

numbness and tingling in the hands

pain in the shoulder
Pain specialists often recommend a combination of two or more conservative treatments at the same time. NTOS treatments include (but are not limited to):
1. Physical Therapy
Physical therapists aim to ease symptoms and restore upper-body function. Treatments include:
heat packs: Applying heat packs can relax muscles and lessen pain.
exercise programs: Exercises consist of stretching to improve flexibility and increase strength in the affected areas.
cervical traction: Cervical traction devices help to relax the muscles, increase flexibility, and relieve pain. They do this by slightly stretching the neck, which decreases pressure on the spine by separating vertebrae. 
2. Biofeedback Therapy
A biofeedback therapist helps you practice relaxation exercises, which you fine-tune to control different body functions. 
During a therapy session, a biofeedback therapist attaches electrodes to your skin which monitor stress indicators, such as heart rate, blood pressure, sweating, and muscle activity.
The therapist teaches you to practice relaxation techniques in stressful situations, such as deep breathing and mindfulness.
3. Occupational Therapy
An occupational therapist will generally recommend simple methods for relieving pain and relieving nerve compression, the underlying cause of NTOS.
They will recommend correcting poor posture and practicing safe ergonomics, such as safely lifting heavy objects. They may also recommend simple exercises you can perform at home.
4. Cognitive Behavioral Therapy (CBT)
Cognitive-behavioral therapy can be an effective complementary treatment for TOS. It can help patients in three ways: 
Change their perception of pain.

Think about their experience in positive terms.

Eliminate or at least minimize believing the worst or exaggerating the situation.
5. Medication
Your pain management specialist may recommend taking over-the-counter drugs, such as 
Non-steroidal anti-inflammatories (such as ibuprofen and aspirin) and muscle relaxants, such as tizanidine, can relieve muscle stiffness and pain. 
6. Botox Shots for Pain 
Your pain specialist may recommend a botox injection in the muscle at the base of the neck. 
Botox injections can relax the muscles and ease the pain. The positive effects can last for up to 3 months, and the injections are repeatable.
Treatment for Venous and Arterial Thoracic Outlet Syndrome
These two types of thoracic outlet syndrome account for only 10 percent of cases. Symptoms include, but are not limited to:
pain

edema (swelling of the hands, fingers, and arms)

blue color in the hands and arms

bulging veins in the neck, shoulder, and hand
You will likely be treated for possible blood clots and have thoracic outlet decompression surgery. 
After this, you may need long-term pain management. In this case, your pain management specialist would recommend a combination of the above treatments and therapies.
Texas Pain Treatment and Management Specialists
At Texas Pain Physicians, our priority is to improve your quality of life.
If you have been diagnosed with thoracic outlet syndrome or think you may have this condition, please give us a call at (972) 636-5727 or book your appointment online today.
https://www.texaspainphysicians.com/wp-content/uploads/2021/09/shutterstock_576128317-e1632499022648.jpg
248
370
https://www.texaspainphysicians.com/wp-content/uploads/2017/01/logo-300x78.png
2021-09-09 23:21:21
2021-11-01 16:55:18
Treatment and Management of Thoracic Outlet Syndrome